WTCC Marrocos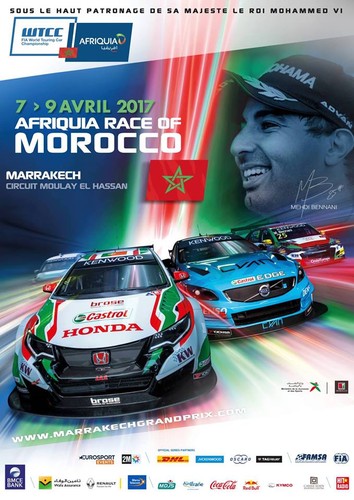 Circuit International Automobile Moulay El Hassan, Morocco
Pole position para a corrida de amanhã
Em directo no Eurosport às 16:15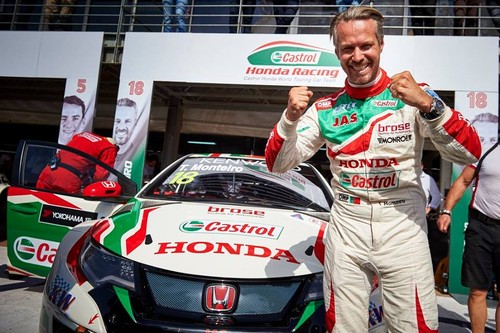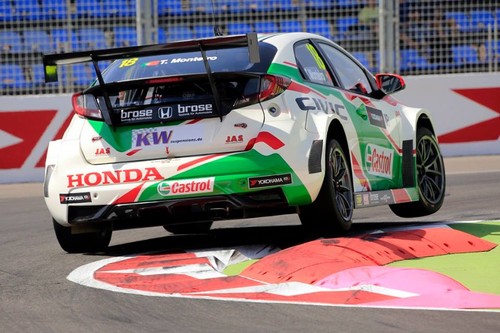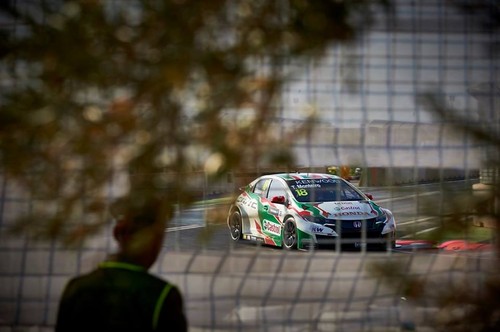 Honda claimed the first pole position of the 2017 FIA World Touring Car Championship thanks to a stunning performance in qualifying from Tiago Monteiro in Morocco.
Tiago had set the pace in opening practice and then again in the second section of qualifying. With the pressure on, he smashed the official pole position record at the Circuit Moulay el Hassan in Marrakech in 1m21.792s to take the top spot.
It was the seventh pole position for the Honda Civic WTCC and the fourth of Tiago's career; the Portuguese driver receiving five bonus points for his World Championship campaign for his achievement.
His Castrol Honda World Touring Car team-mate Norbert Michelisz recovered well to set the pace in FP2 after missing the opening session due to a minor oil leak. After setting the pace in Q1, his Q3 lap was good enough for a strong third place on the grid.
Ryo Michigami, who becomes a full-time WTCC driver this year, made a sensational last-gasp effort in Q2 to elevate himself from 11th to ninth spot on his final lap.
Not only was this the best qualifying result ever achieved by a Japanese driver in the WTCC, it also put Ryo on the front row for Sunday's reversed-grid Opening Race. Norbert and Tiago start the opener from eighth and 10th respectively.
The Opening Race takes place at 1635 while the Main Race will start at 1745.
UPDATE: Unfortunately, Ryo's qualifying times were cancelled after he mistakenly did not stop for a weight check when instructed. He will start both races from the back of the grid as a result.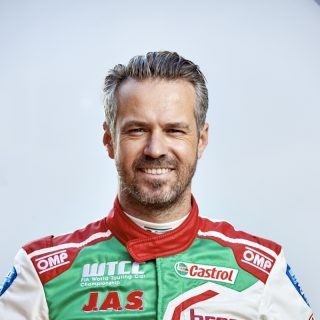 "This is exactly what we needed. As a team we've worked incredibly hard over the winter to develop the Civic. We knew that we'd made progress, but you still have to show it, in front of everyone else, to prove that the progress is real. Norbi was very fast all day, so I knew I had to set a very good laptime to get pole, but I did and this is the result. I was pretty happy with my lap and to have pole for the first Main Race of the year feels fantastic. On a street track pole position is a bigger advantage than normal because it's so difficult to overtake, so I'm aiming to make the most of it."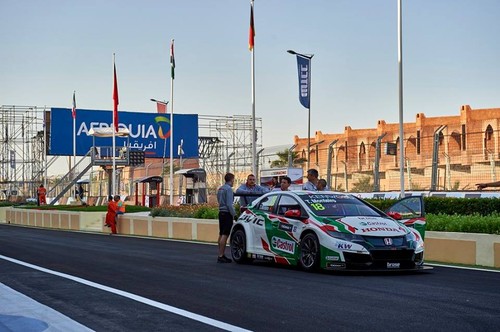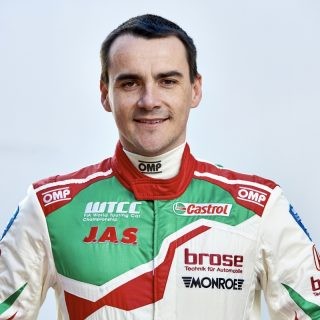 "Today is a tremendous team result and we have to be happy with that. Personally, I'm a little disappointed to only qualify third because Tiago showed that the car was capable of pole position. I didn't have the confidence on my Q3 lap to push to the absolute limit, so I don't think I could have matched Tiago's time no matter the circumstance. I missed all of FP1 with a small issue, but I honestly don't know if missing 45 minutes of track time made a difference. I'm confident of scoring big points tomorrow."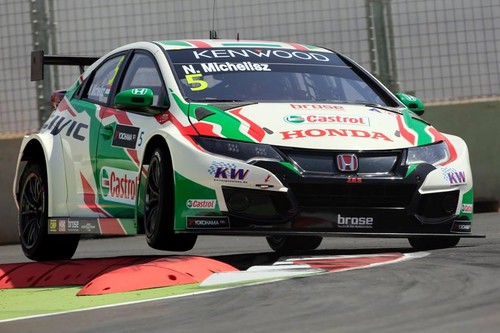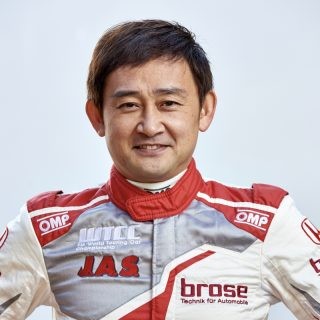 "I'm pretty pleased with the way qualifying turned out. Ninth is OK for my first time on this circuit and second for the reversed-grid race gives me an excellent opportunity to win – which is my aim. I have to thank my engineer Nicola, who made a great decision to change the tyre pressures right at the end of Q2, which helped unlock an extra bit of speed and got me up into a very important P9. Unfortunately my times were cancelled because of a mistake in the pits, but tomorrow I'll see what I can achieve."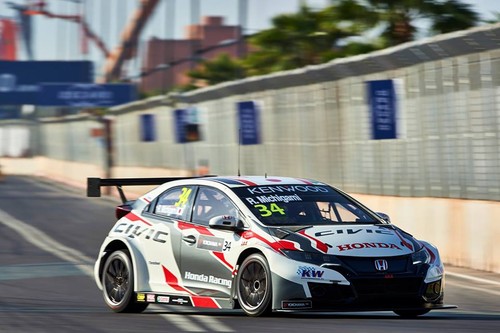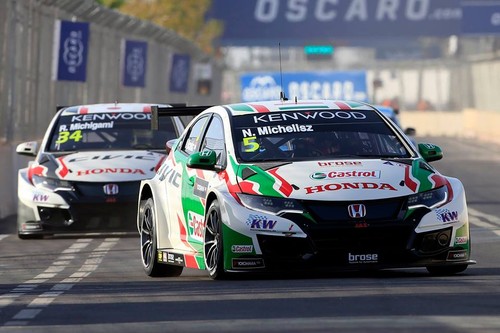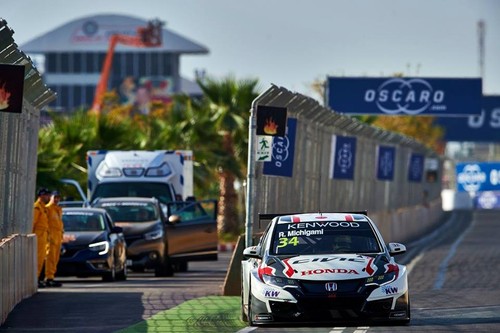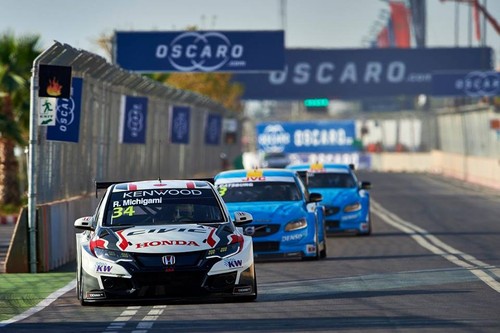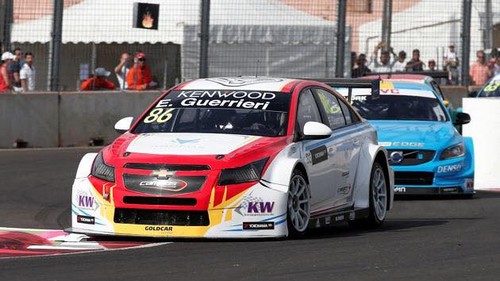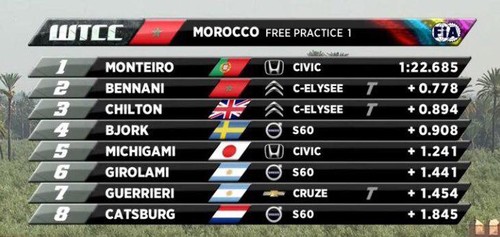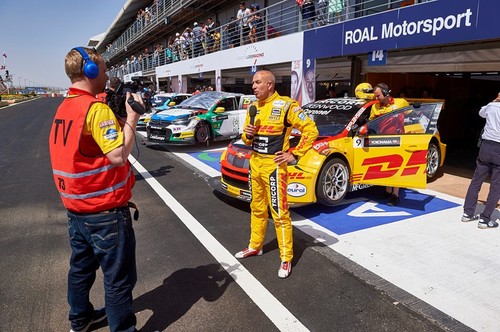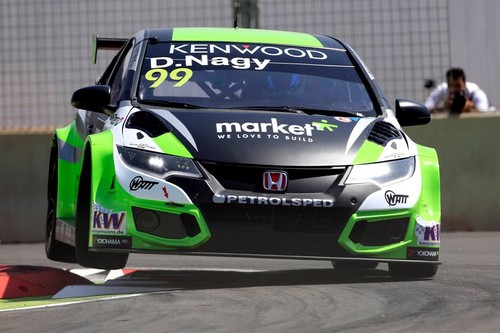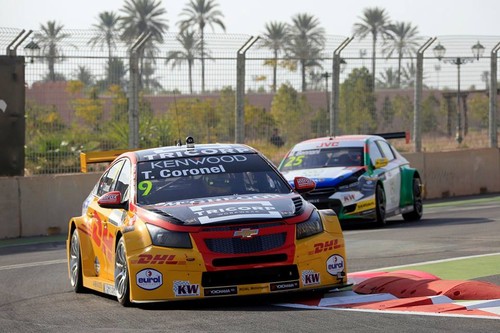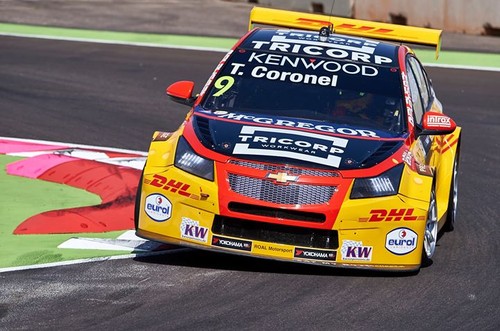 UPDATE!
👊🏻
👊🏻 I'll start race 1 from POLE POSITION, because of the disqualification from Yann Ehrlacher & Ryo Michigami. Sorry guys
😟, I know I'm a lucky man.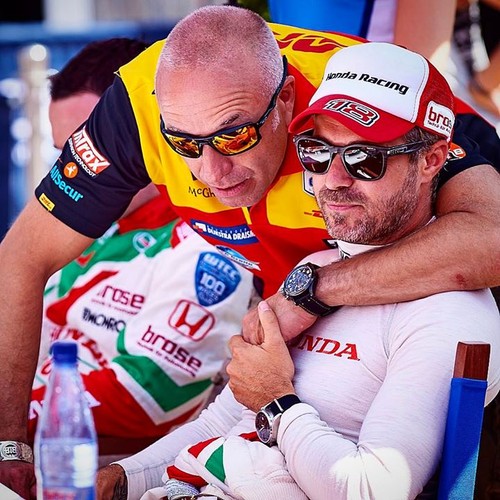 The 2 FIA WTCC pole men for Marrakech Grand Prix.
👊🏼
🙈
👍 Race 1 me and race 2 Tiago Monteiro lets go get those
🏆
🏆 trophies!
 Tiago Monteiro ganha a corrida principal do WTCC em Marrocos e lidera um Mundial FIA (tal como no ano passado, mas acabou desclassificado).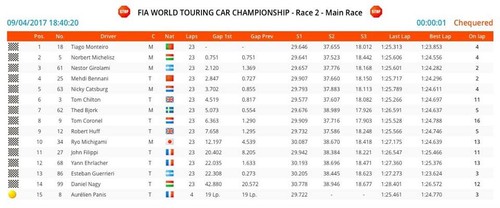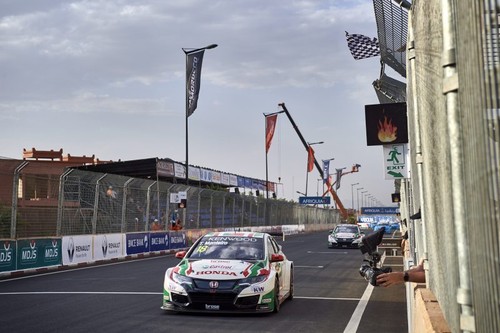 "It's a fantastic feeling for myself and the whole team to win the first Main Race of the season and be leading the Drivers' and Manufacturers' Championships. Overtaking is always tough on street circuits, so taking pole position yesterday was more than 50 per cent of the job. I made a good start, had to be very careful with my pace to make sure I didn't over-work the brakes or the tyres on a very hot day, and took the chequered flag. To head Norbi home in a one-two finish for the team is great."
Tiago Monteiro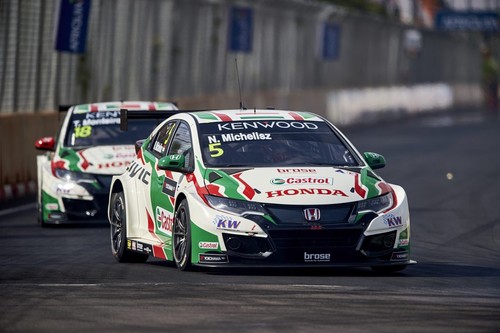 "Today is a great result for the team and I have to congratulate Tiago on his win. Today's result was all down to my start. I made a good getaway and made it up to P2 by the first corner. It got pretty close with a few other cars through Turn One, but after that, I was confident of holding my place because it's very hard to overtake here and my Honda has been fantastic all weekend. This is a strong start to my season."
Norbert Michelisz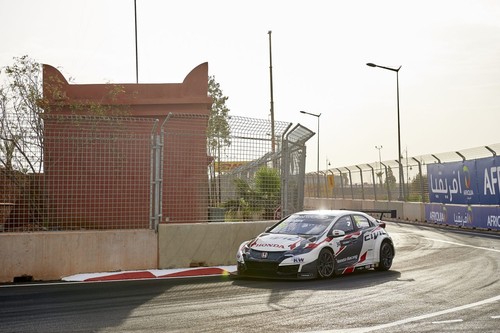 "It was a mixed day for me. I'm disappointed to have been taken out of the Opening Race after I'd made a very good start and made up a couple of positions. My rear suspension was broken, but because it happened early on, my mechanics a chance to get the car fixed properly before the Main Race. Scoring a point was a good result, but I need to continue to work on my race pace at the coming events. I'm sure this will come as my experience of the WTCC increases."
Ryo Michigami
Honda took an early lead of the 2017 FIA World Touring Car Championship with a dominant one-two finish in Morocco from Tiago Monteiro and Norbert Michelisz.
Tiago started the Main Race from pole position and drove an inch-perfect race on the Circuit Moulay el Hassan in Marrakech; the Portuguese leading every lap to win by less than a second from his Castrol Honda World Touring Car Team-mate.
It was Tiago's 10th WTCC victory and gave him a seven-point advantage over Norbert in the Drivers' Championship.
Hungarian Norbert, who secured his 32nd podium in the series, had earlier finished fifth in the Opening Race; one place ahead of his team-mate.
Honda, who now have 15 WTCC victories, lead the Manufacturers' points race.
Fellow factory driver Ryo Michigami, who was racing in Morocco for the first time, secured his first WTCC point with 10th place in the Main Race in his Honda Racing Team JAS Civic.
The Japanese driver had been on course for a similar finish in the Opening Race after making a superb start. Unfortunately contact from a rival driver bent his left-rear suspension, forcing him to retire in the pits.
The next round of the WTCC takes place at the historic Monza circuit in Italy on April 22-23.
Sziasztok!
Véget ért a marokkói hétvége.
Race1: Jöttünk fel, mint a talajvíz az első körben! A safetycar után megfutottam a leggyorsabb kört a versenyben! Sajnos 3 körrel a verseny vége előtt egy szerencsétlen helyzetben megütöttem a falat... 8.helyen haladtunk éppen. Sajnos kitörött a jobb hátsó kerék, és a versenyem véget ért. Részletek később.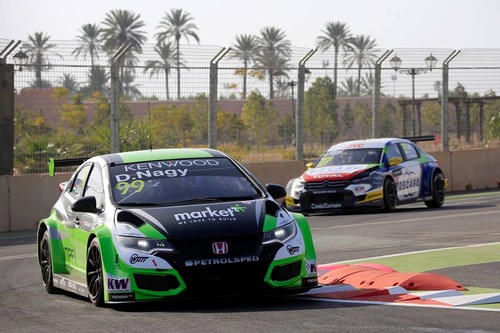 Race2: A srácok óriási bravúrt végrehajtva megjavították az autót, rajt a boxból. Az autó sajnos jobban sérült, mint gondoltuk, így csak a verseny befejezése lehetett a cél.
Óriási köszönet a Zengő Motorsport összes szerelőinek, kivételes munkát végeztek a hétvége folyamán! Köszi nektek is, hogy velem, velünk voltatok!
Próbáljuk a pozitívumokat megtartani a hétvégéről, hisz volt bőven! Nagyon pozitív a jövőre nézve, hogy ennyire versenyképesek tudtunk lenni. Részletek később.