Monza WTCC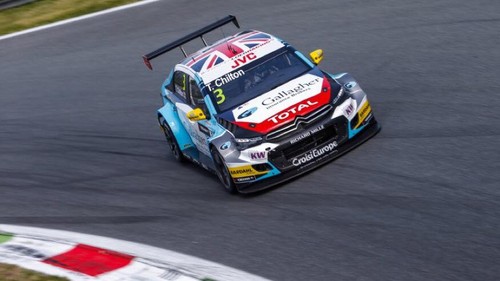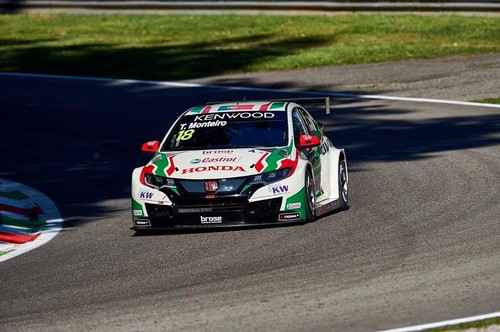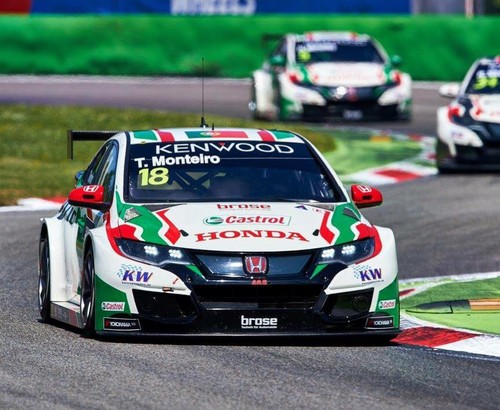 2º na qualificação e partimos na primeira fila amanhã na corrida principal aqui em Monza
🇮🇹 e de 9º na corrida de abertura com grelha invertida. Estamos na luta 
Surprise surprise
✌🏻
✌🏻
🏁 P2 in qualy and a front-row start for tomorrow's main Race for here in Monza and P9 for the Opening Race with reverse grid. We are in the fight
💪🏻
👊🏻
💪🏻 #tiagosworld18 #honda #thepowerofdreams#monza #pedaltothemetal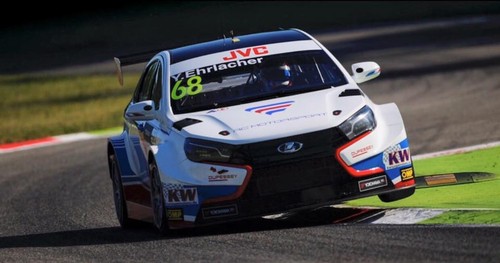 From P12 to P6 !
Awesome race, nice fight with Tom Coronel !
Unfortunately got a 10s penalty to cross the line for avoiding a collision ...
Anyway let's fight harder in race 2 !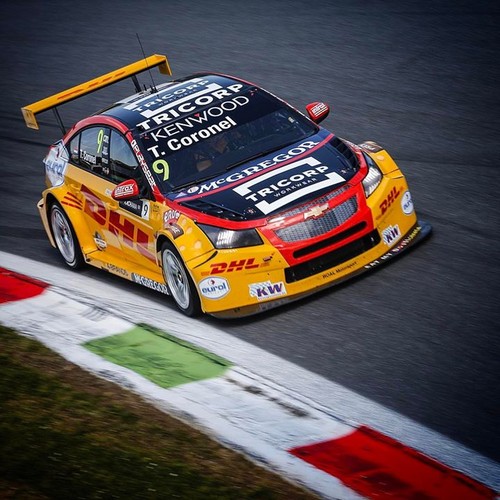 Race day!
👊🏻 Start from POLE POSITION FIA WTCC race 1 at Autodromo Nazionale Monza
😄
👊🏻
👊🏻 Qualified P10 so that's a reversed grid DHL pole position for the 1st race at the temple of speed
🇮🇹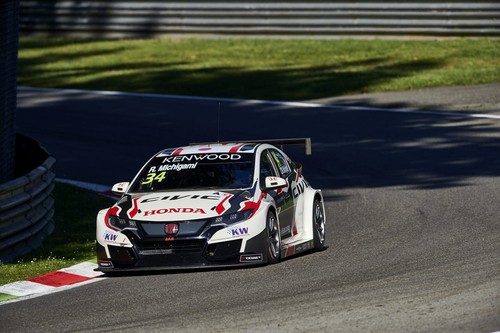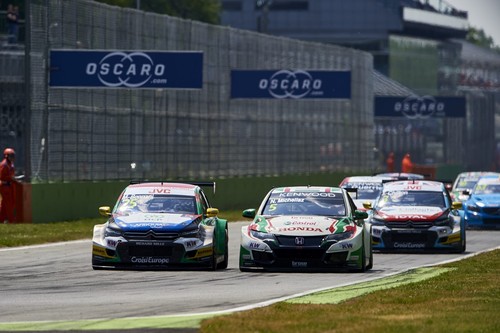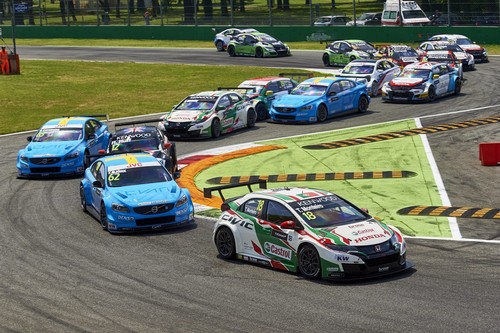 Tiago Monteiro foi terceiro na 1 corrida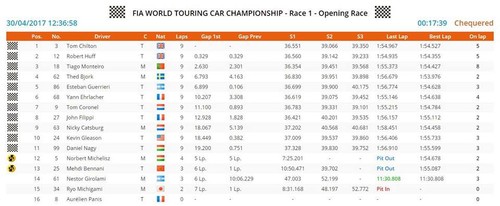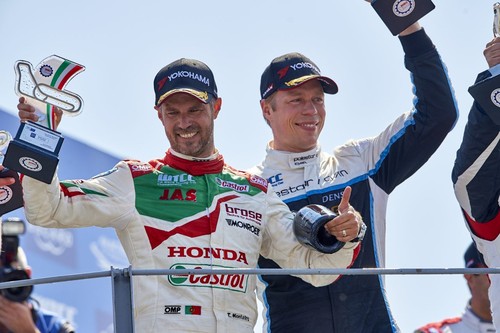 Honda driver Tiago Monteiro doubled his lead of the 2017 FIA World Touring Car Championship with a hard-fought double podium finish at Monza in Italy.
The Portuguese driver charged from ninth on the reversed-grid Opening Race to an impressive third place, his Castrol Honda World Touring Car Team Civic showing impressive straightline speed throughout.
He then added a second-place finish in the Main Race to increase his series advantage from seven points to 15 and score the 40th podium of his WTCC career.
Tiago's team-mate Norbert Michelisz made a sensational start from fifth on the Opening Race grid to climb into the top three and was challenging for the lead by one-third distance.
Unfortunately for the Hungarian, his race ended thanks to a poorly-executed defence of the lead by Mehdi Bennani at Parabolica, which resulted in significant damage to Norbert's left-rear suspension and a left-front puncture, caused by an immediate trip into the gravel.
Norbert's mechanics worked tirelessly during Repair Time to fix his car in time for the Main Race, and he rewarded them with a deserved sixth-placed finish, which put him fourth in the Drivers' points and kept Honda within a handful of points of the WTCC Manufacturers' Championship lead.
Fellow factory driver Ryo Michigami was less fortunate. He failed to start the Opening Race after due to a misfire on the formation lap, and suffered a similar issue early in the Main Race, despite the sterling efforts of his engineers to get the Japanese driver onto the grid.
Tiago Monteiro 18
 

"To score two podiums and increase my championship lead at a track like Monza is pretty amazing. We've never been that strong on high-speed circuits like this, but the latest evolution of the car is fantastic and this is a huge motivating factor for everybody because it shows we can be competitive everywhere. After we had such pace in the Opening Race, I was confident I could win the Main Race, but I made a small mistake coming out of the Ascari chicane and Thed [Bjork] was able to pass me."

 

Ryo Michigami 34

 

"It's quite disappointing to leave Monza without scoring a point, especially after we showed strong pace in practice. I had a misfire and wasn't able to start the Opening Race. The team did a great job to get me out in the Main Race, but again we weren't able to make the finish because of a similar issue. Without this, I'm sure I could have easily finished in the points in both races, because the straightline speed and the balance in the corners was very good."

 

Ryuichi Furukawa

Large Project Leader WTCC Development, Honda R&D

 

"A tough day because the pace we showed in both races meant we thought we could get at least one win. I think we would have won the Opening Race with Norbi, but for his incident with Bennani and Tiago was also very close in the Main Race. Ryo had top-10 pace too, but had some unfortunate technical issues, which we will go away and analyse ahead of the next race in Hungary. We have still managed to score good points at a circuit we've never done very well at before, so it's OK."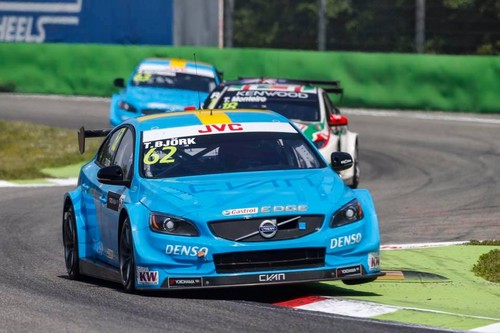 #
DRIVER
NUM
NAT.
 
TEAM
CONSTRUCTOR
TIME/GAP

1

THED

BJÖRK

62

SWE

30

POLESTAR CYAN RACING

VOLVO

12 laps

2

TIAGO

MONTEIRO

18

POR

23

CASTROL HONDA WTCC

HONDA

+2.174

3

ROB

HUFF

12

GBR

19

MÜNNICH MOTORSPORT

CITROËN

+2.779

4

NICK

CATSBURG

63

NDL

16

POLESTAR CYAN RACING

VOLVO

+3.269

5

NESTOR

GIROLAMI

61

ARG

13

POLESTAR CYAN RACING

VOLVO

+6.180

6

NORBERT

MICHELISZ

5

HUN

10

CASTROL HONDA WTCC

HONDA

+6.181

7

MEHDI

BENNANI

25

MAR

7

SÉBASTIEN LOEB RACING

CITROËN

+9.582

8

ESTEBAN

GUERRIERI

86

ARG

4

CAMPOS RACING

CHEVROLET

+11.522

9

YANN

EHRLACHER

68

FRA

2

RC MOTORSPORT

LADA

+11.877

10

JOHN

FILIPPI

27

FRA

1

SÉBASTIEN LOEB RACING

CITROËN

+12.077

11

TOM

CORONEL

9

NDL

-

ROAL MOTORSPORT

CHEVROLET

+12.836

12

AURÉLIEN

PANIS

8

FRA

-

ZENGO MOTORSPORT

HONDA

+16.637

13

KEVIN

GLEASON

 

USA

-

RC MOTORSPORT

LADA

+19.306

14

DÁNIEL

NAGY

99

HUN

-

ZENGO MOTORSPORT

HONDA

+dnf

15

TOM

CHILTON

3

GBR

-

SÉBASTIEN LOEB RACING

CITROËN

+dnf

16

RYO

MICHIGAMI

34

JPN

-

HONDA RACING TEAM JAS

HONDA

+dnf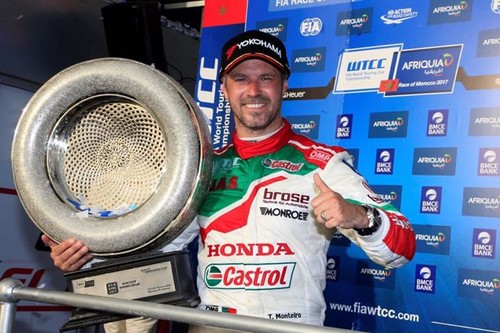 Double podium here in Monza
🇮🇹 with P3 and P2. Such a fantastic weekend and we increased the championship lead
💪🏻
💪🏻Thank you all for the support and specially to this amazing team Honda Racing WTCC
🙏🏻
Dois pódios aqui em Monza
🇮🇹 Fim de semana de sonho. 3º na primeira e 2º na segunda corrida e logo num dos circuitos teoricamente mais difíceis para o nosso carro e com este duplo pódio aumentámos a vantagem no campeonato! Obrigado a todos pelo apoio e sobretudo a esta incrível equipa Honda
🏆
💪🏻
🏆 #honda #thepowerofdreams #tiagosworld18 #doublepodium#monza #wtcc