We are looking for the best virtual Touring Car drivers to prove their skills in an Online Championship.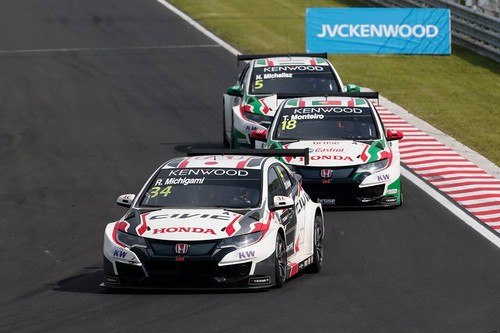 Honda Racing WTCC takes its first WTCC MAC3 victory of 2017!
Honda claimed victory in the third MAC3 session of the 2017 FIA World Touring Car Championship while Tiago Monteiro secured a front-row grid spot at the Hungaroring.
The three-car crew of Ryo Michigami, Tiago Monteiro and Norbert Michelisz completed the fastest team time trial at the 2.7-mile circuit near Budapest, emerging on top by nearly four seconds.
Tiago's ninth-fastest time in qualifying ensures that the Championship leader will start from second place in the reversed-grid Opening Race with a great chance to add to the three podiums he's taken from the opening four races this season.
His Castrol Honda World Touring Car Team-mate Norbert Michelisz, who is racing in front of his home crowd this weekend, was the fastest of the three Honda Civic WTCCs in the session, which began on a damp track.
His sixth-quickest time in Q2 was agonisingly close to giving the Hungarian hero a spot in Q3, but just fell short.
Norbert, a two-time WTCC race winner in his homeland, will start the Opening Race from fifth spot.
Ryo Michigami showed top-five pace in a wet second practice session, but just missed out on a top-10 grid spot. He qualified 12th for the Main Race and will start the Opening Race from 11th.
Sunday's Opening Race begins at 1235 with the Main Race following at 1345.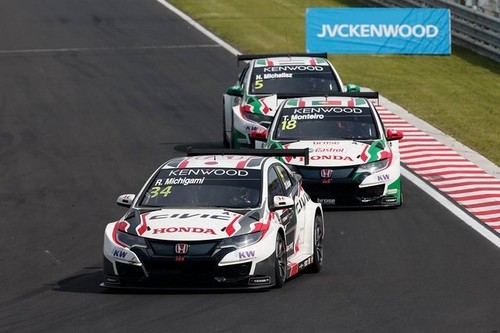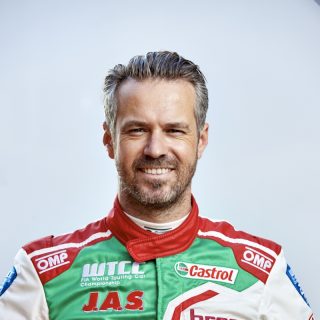 Tiago Monteiro 18
 

"On the positive side, I'm on the front row for the Opening Race, which gives me a great chance to increase my Championship lead. P9 isn't where I expected to be on speed, but the Honda is running maximum compensation weight and in qualifying – the first time we've had a dry track all weekend – you can really feel this having an effect on the car. We'll work out where we can improve things from tomorrow and then attack."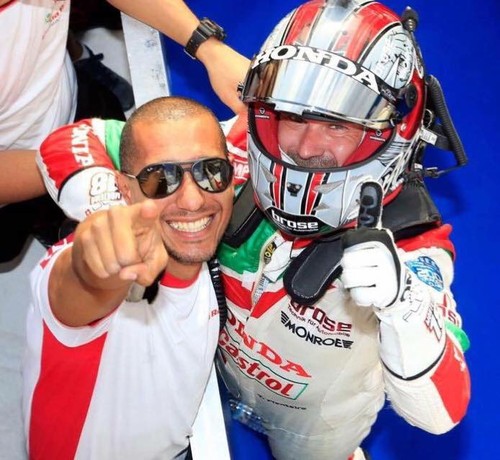 Yessss! Mais uma vitória
🏆
🇵🇹
🏆 e aumentámos a liderança do FIA WTCC para 38 pontos. Grande trabalho de toda a equipa Honda, agora é continuar focado e a trabalhar
👊🏻
💪🏻
👊🏻
Yessss! We did it again. P1
🏆
🇵🇹
🏆 and we open the championship gap to 38 points. Proud of my boys from Honda Racing WTCC. Amazing job guys. We keep pushing
💪🏻
👊🏻
💪🏻 #tiagosworld18 #honda #thepowerofdreams#hungaroring #wtcc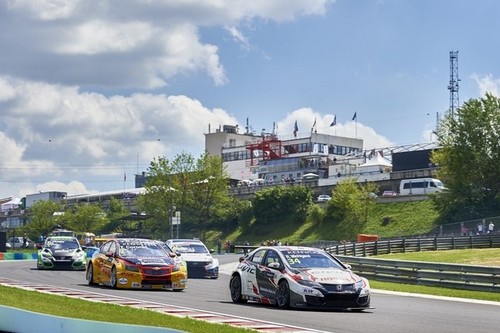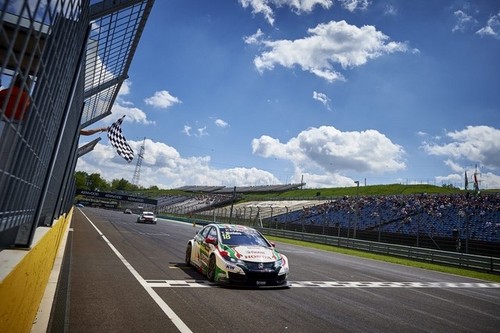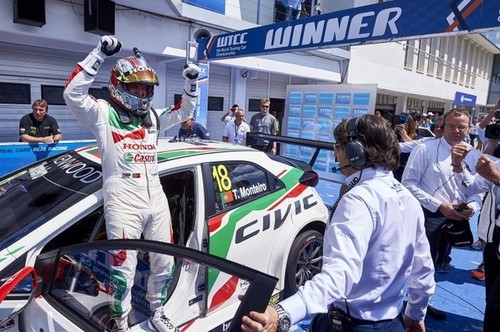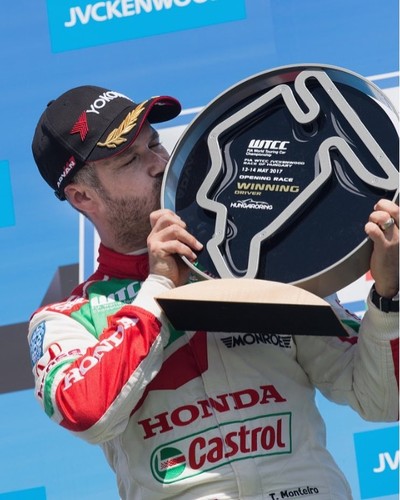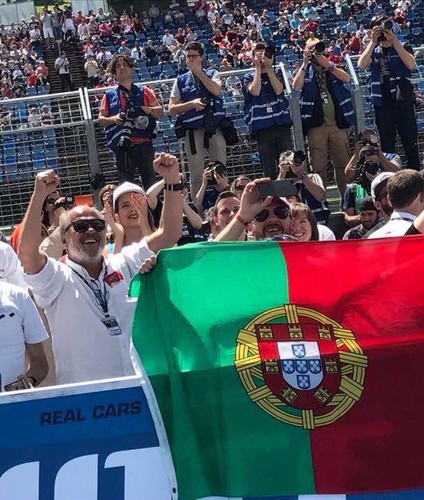 Quando olhas para baixo no pódio e ves o teu pai a festejar a vitória como se fosse a primeira da minha carreira. Grande orgulho que tenho em ter-te ao meu lado sempre, incondicionalmente! 

When you look down on the podium and you see your father celebrating my race win like it was my first one. Legend Dad
WTCC Race of Hungary
Hungaroring, Hungary
WTCC 2017, Round 3
Sunday 14 May 2017, 12:05 Europe/London
#
DRIVER
NUM
NAT.
 
TEAM
CONSTRUCTOR
TIME/GAP

1

TIAGO

MONTEIRO

18

POR

25

CASTROL HONDA WTCC

HONDA

12 laps

2

TOM

CHILTON

3

GBR

18

SÉBASTIEN LOEB RACING

CITROËN

+0.768

3

ROB

HUFF

12

GBR

15

MÜNNICH MOTORSPORT

CITROËN

+2.296

4

NESTOR

GIROLAMI

61

ARG

12

POLESTAR CYAN RACING

VOLVO

+4.537

5

NICK

CATSBURG

63

NDL

10

POLESTAR CYAN RACING

VOLVO

+5.221

6

ESTEBAN

GUERRIERI

86

ARG

8

CAMPOS RACING

CHEVROLET

+10.308

7

MEHDI

BENNANI

25

MAR

6

SÉBASTIEN LOEB RACING

CITROËN

+10.893

8

YANN

EHRLACHER

68

FRA

4

RC MOTORSPORT

LADA

+13.183

9

TOM

CORONEL

9

NDL

2

ROAL MOTORSPORT

CHEVROLET

+21.703

10

AURÉLIEN

PANIS

8

FRA

1

ZENGO MOTORSPORT

HONDA

+37,886

11

RYO

MICHIGAMI

34

JPN

-

HONDA RACING TEAM JAS

HONDA

+38.532

12

KEVIN

GLEASON

 

USA

-

RC MOTORSPORT

LADA

+38.808

13

DÁNIEL

NAGY

99

HUN

-

ZENGO MOTORSPORT

HONDA

+39.607

14

JOHN

FILIPPI

27

FRA

-

SÉBASTIEN LOEB RACING

CITROËN

+1 lap

15

THED

BJÖRK

62

SWE

-

POLESTAR CYAN RACING

VOLVO

+2 laps

16

NORBERT

MICHELISZ

5

HUN

-

CASTROL HONDA WTCC

HONDA

+2 laps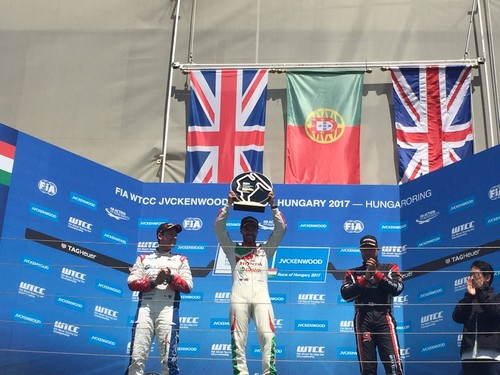 https://www.facebook.com/tiagosworld18/videos/885500831588959/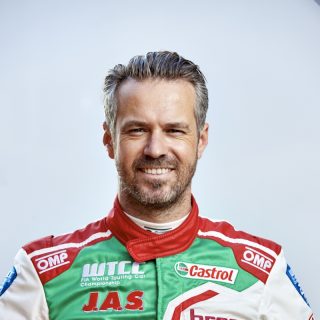 Tiago Monteiro 18
 

"It's been a very good day and I'm delighted to have my second win of the year. From second on the grid, the target was to take the victory and we've done this, despite carrying 80kg of compensation weight. It's a nice points advantage to have so early in the season, but we've seen from what's happened to Norbi at the past two races that you can lose big points very easily through no fault of your own. It's very important to keep building on this at the next few rounds."

 
Sunday 14 May 2017, 13:31 Europe/London
#
DRIVER
NUM
NAT.
 
TEAM
CONSTRUCTOR
TIME/GAP

1

MEHDI

BENNANI

25

MAR

30

SÉBASTIEN LOEB RACING

CITROËN

17 laps

2

NICK

CATSBURG

63

NDL

23

POLESTAR CYAN RACING

VOLVO

+0.654

3

TOM

CHILTON

3

GBR

19

SÉBASTIEN LOEB RACING

CITROËN

+3.553

4

NORBERT

MICHELISZ

5

HUN

16

CASTROL HONDA WTCC

HONDA

+7.309

5

TIAGO

MONTEIRO

18

POR

13

CASTROL HONDA WTCC

HONDA

+9.532

6

ESTEBAN

GUERRIERI

86

ARG

10

CAMPOS RACING

CHEVROLET

+10.875

7

THED

BJÖRK

62

SWE

7

POLESTAR CYAN RACING

VOLVO

+11.865

8

YANN

EHRLACHER

68

FRA

4

RC MOTORSPORT

LADA

+14.547

9

TOM

CORONEL

9

NDL

2

ROAL MOTORSPORT

CHEVROLET

+20.783

10

ROB

HUFF

12

GBR

1

MÜNNICH MOTORSPORT

CITROËN

+21.212

11

JOHN

FILIPPI

27

FRA

-

SÉBASTIEN LOEB RACING

CITROËN

+28.110

12

KEVIN

GLEASON

 

USA

-

RC MOTORSPORT

LADA

+31.760

13

RYO

MICHIGAMI

34

JPN

-

HONDA RACING TEAM JAS

HONDA

+36.582

14

AURÉLIEN

PANIS

8

FRA

-

ZENGO MOTORSPORT

HONDA

+51.021

15

DÁNIEL

NAGY

99

HUN

-

ZENGO MOTORSPORT

HONDA

+6 laps

16

NESTOR

GIROLAMI

61

ARG

-

POLESTAR CYAN RACING

VOLVO

+0 laps