Grand Prix of Long Beach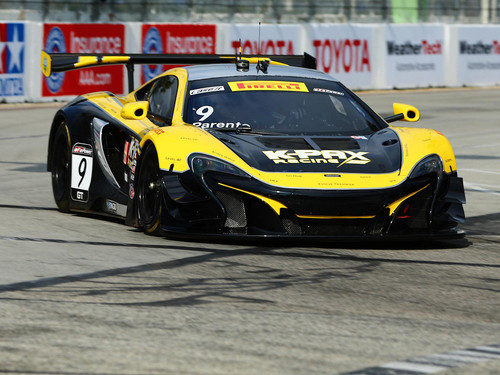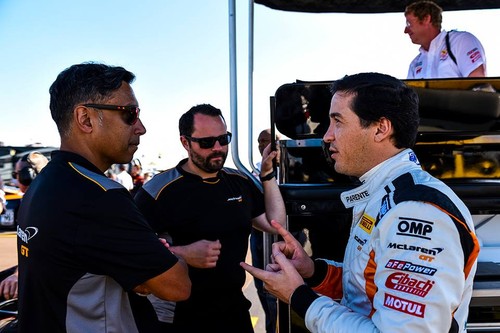 Pole-position!!!!!
😃
A pista estava húmida, mas conseguimos ser os mais rápidos e bater o recorde da pista.
Arrancamos da pole, mas não vai ser fácil… Vamos dar o nosso melhor para conquistar mais um bom resultado.
Obrigado pelo vosso apoio.
Pole-position!!!!!!
😃
The track was damp, but we were the fastest and we signed a new track record.
We will start from pole, but it won't be easy… We will give or best to achieve another good result.
Thank you for your support.
#GoingHard #McLarenGT #650S #BelieveInMcLaren #2017Season#PWC #DefendingTheTitle #KPAX K-PAX Racing Flying Lizard Motorsports Pirelli World Challenge Championships McLaren GT
Parente Takes Record-Setting Pole in Long Beach Rd.3 Qualifying
St. Pete Winners Parente, Long to start on front row for Sunday's Feature
LONG BEACH, Calif. – Reigning Pirelli World Challenge GT series champion Alvaro Parente pulled out a last lap "qualifying flyer" Saturday to win the GT/GTA pole position for Sunday's 50-minute PWC Grand Prix of Long Beach presented by Optima Batteries at the legendary 43rd annual Toyota Grand Prix of Long Beach.
Parente, the 32-year-old factory McLaren GT driver from Porto, Portugal, drove his No. 9 K-PAX Racing McLaren 650S to a time of one minute, 18.883 seconds (89.84 miles per hour) Saturday morning with only a few minutes left in the 20-minute qualifying round to better his 2016 record qualifying mark of 1:18.947 (89.74 mph) on the drying 1.968-mile, 11-turn temporary street circuit near the Long Beach harbor.
Rain hit the racing surface during the early morning hours on Saturday, but despite the drying track surface, the top 12 GT drivers were within a second of the pole time.
Parente, the winner of Round 1 last month at St. Petersburg, made his initial Long Beach appearance last year with the K-PAX Racing team and made an immediate impact with the Long Beach pole, qualifying record and race win. It was Parente's first of six 2016 race victories that led to the GT driver's point title.
"It was definitely not full-dry conditions so you couldn't really attack," Parente explained, "especially that braking area into turn 9. In between turns 9 and 10, it was also wet there so I was quite impressed with the lap time. If it was fully dry, I believe the pack would have gone quite a bit quicker, especially if everything was normal. I'm happy to have come back, got that last sector right with three minutes to go, and then concluded my lap. Mentally, I knew that the end would have been better so maybe even waiting another five minutes would have helped but we didn't do that since all of our main competition didn't do it. So, we decided to go too and we didn't have a problem."
Local favorite Patrick Long of Manhattan Beach, Calif., held the top spot for the majority of the 30-minute qualifying session with a clocking of 1:18.983 (89.72 mph) in the No. 58 Wright Motorsports Porsche 911 GT3 R before Parente's late record run Saturday. Long, the 2011 PWC GT champion, finished second to Parente in last year's 2016 GT standings and won Round 2 of the 2017 PWC GT campaign at St. Petersburg.
"We went with the strategy of putting a lap in early," said Long. "Where we got caught off gaurd was that all weekend we had a 15-minute practice session but when we got out and the tuggers left, that's when we got the update of a twenty-minute session so we ended up running out of fuel at the end. Everybody's doing their best and we learn from it. In the end, no excuses. Alvaro (Parente) is a class act and tomorrow is the race so we'll see. I feel good about the race. The track will be different again, turn one will be wild, and we just have to keep the perspective of the complete picture and we'll be alright."
Rounding out the top three in GT division Saturday was Parente's K-PAX Racing teammate, Bryan Sellers of Brasleton, Ga., in the No. 6 K-PAX Racing McLaren 650S with a qualifying lap of 1:19.088 (89.60 mph). Sellers, in his first season in PWC GT action, won the pole in the GTD class for IMSA at Long Beach too.
"I couldn't fully go 10/10ths (in turns 9, 10, and 11) but it was pretty close in the end; it didn't miss a lot," Sellers remarked. "You just lacked the ability to release the brake and carry some of the speed through there. I made a bit of a strategical error; I went too hard, too early and didn't have enough left at the end, but that's on me. On my last lap, I was up a little bit on one car but I don't know if it was enough of a traffic case for me to have passed but that's the way the cookie crumbles. It's a good qualifying position, it's better than St. Pete for sure. The race will be interesting, but now we get to go do the fun part."
GT rookie Daniel Mancinelli of Italy, a St. Pete pole winner, drove his No. 31 The Collection/TR3 Racing Ferrari 488 GT3 to the fourth best qualifying time of 1:19.143 (89.54 mph) followed by another GT rookie, Alex Riberas of Spain, with a 1:19.169 (89.51 mph) in the No. 61 R. Ferri Motorsport Ferrari 488 GT3.
The top ten GT qualifiers were Ryan Dalziel of Scotland in the No. 2 CRP Racing/DeVibliss Mercedes AMG GT3 (89.42 mph), Pierre Kaffer of Germany in the No. 4 Magnus Racing Audi R8 LMS (89.34 mph), Alec Udell of The Woodlands, Tex., in the No. 17 GMG/Euroworld Motorsports Porsche 911 GT3 R (89.32 mph), Michael Cooper of Syosset, N.Y., in the No. 8 Cadillac Racing Cadillac ATS-V.R. (89.15 mph) and Peter Kox of the Netherlands in the No. 93 RealTime Racing Acura NSX GT3 (89.10 mph).
In the GTA category, local racer James Sofronas of Villa Park, Calif., took the pole position late in the session like Parente when the two-time Long Beach winner drove his No. 14 GMG Motorsports Porsche 911 GT3 R to a time of 1:20.147 (88.52 mph).
"We thought about the weather and scuffed in our tires in practice," said Sofronas. "I think it hurt us in the end but we were hedging that we could put a fast lap early in case someone got a red flag because our tires would come up quicker. Obviously it was a green session and I probably didn't get the best of the tire. In one way, we got a good race pace but we probably didn't get the most of the tires. However, the car is balanced and we'll take the pole. I'm happy to be on pole, but we have a lot of work to do tomorrow."
All results are provisional until posted Final. GT and GTA classes hit the track tomorrow at 10:00 a.m. PDT for Round 3 competition. Fans can keep track of timing and scoring in real-time at PWC's TSL link at http://www.tsl-timing.com/event/171406/ under the LIVE TIMING link. CBS Sports Network will air the same-day broadcast at 2:30 p.m. EDT (11:30 a.m. PDT) as well as an encore presentation at 6:30 p.m. EDT (3:30 p.m. PDT).
Pirelli World Challenge Grand Prix of Long Beach Presented by Optima Batteries Rd.3 GT/GTA Qualifying Results. Results are provisional until posted final.
Pos,PIC,Class,Name,Hometown,Car,Laps,Time,M.P.H.
1,1, GT,Alvaro PARENTE,Porto, Portugal,McLaren 650S,13,1:18.833,89.84
2,2, GT,Patrick LONG,Manhattan Beach, CA,Porsche GT3R,13,Not Running,1:18.983,89.72
3,3, GT,Bryan SELLERS,Braselton, GA,McLaren 650S,13,1:19.088,89.60
4,4, GT,Daniel MANCINELLI,Italy,Ferrari 488 GT3,13,1:19.143,89.54
5,5, GT,Alex RIBERAS,Barcelona, Spain,Ferrari 488 GT3,11,1:19.169,89.51
6,6, GT,Ryan DALZIEL,Windermere, FL,Mercedes AMG,14,1:19.247,89.42
7,7, GT,Pierre KAFFER,Germany,Audi R8 LMS,13,1:19.323,89.34
8,8, GT,Alec UDELL,The Woodlands, TX,Porsche GT3R,12,1:19.343,89.32
9,9, GT,Michael COOPER,Syosset, NY,Cadillac ATS-V.R,13,1:19.494,89.15
10,10, GT,Peter KOX,Eindhoven, Netherlands,Acura NSX GT3,13,1:19.536,89.10
11,11, GT,Jon FOGARTY,Bend, OR,Porsche GT3R,12,1:19.587,89.04
12,12, GT,Johnny O'CONNELL,Flowery Branch, GA,Cadillac ATS-V.R,13,1:19.779,88.83
13,13, GT,Ryan EVERSLEY,Atlanta, GA,Acura NSX GT3,12,1:20.059,88.52
14,1, GTA,James SOFRONAS,Villa Park, CA,Porsche GT3R,12,1:20.147,88.42
15,14, GT,Jonathan SUMMERTON,Redwood City, CA,Lamborghini Huracan GT3,9,1:20.213,88.35
16,2, GTA,Michael SCHEIN,Glen Cove, NY,Porsche GT3R,9,1:20.250,88.31
17,3, GTA,John POTTER,Salt Lake City, UT,Audi R8 LMS,13,1:20.604,87.92
18,4, GTA,Mike HEDLUND,Redwood City, CA,McLaren 650S,12,1:20.678,87.84
19,5, GTA,Yufeng LUO,Arcadia, CA,Bentley Continental GT3,10,1:21.080,87.40
20,6, GTA,Pablo Perez COMPANC,Buenos Aires, Argentina,Mercedes AMG GT3,12,1:21.330,87.13
21,7, GTA,Tim PAPPAS,Boston, MA,Mercedes Benz AMG GT3,12,1:21.374,87.09
22,8, GTA,Jorge DE LA TORRE,McAllen, TX,Aston Martin Vantage GT3,9,1:23.374
23,15, GT,Adderly FONG,Hong Kong,Bentley Continental GT3,0,-,-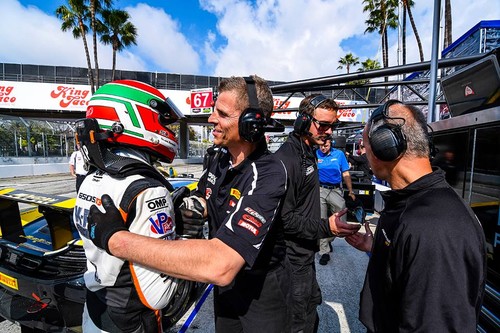 Estamos a menos de uma hora do início da corrida, 18h00 GMT+1. Vou arrancar da pole-position. Vamos dar o máximo para mais um bom resultado.
Podem seguir a corrida através do link que podem encontrar um pouco mas abaixo.
The race will start in less than one hour, 18h00 GMT+1. I'll start from pole-position. We will give our best to achieve a good result.
You can follow the race following the link
...
Ver Mais
— com McLaren GT.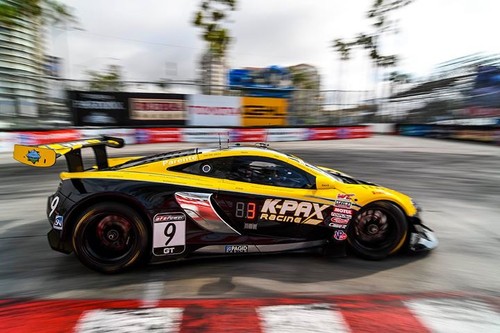 Vencemos hoje em Long Beach!!!
Foi uma corrida estranha com bandeiras vermelhas e Safety-Car, mas conseguimos suster sempre os ataques dos nossos adversários e ainda consegui assinar a melhor volta.
A K-PAX Racing e a McLaren GT deram-me um McLaren 650S muito competitivo, o que foi determinante para este triunfo.
Estamos na liderança do campeonato, mas é ainda muito cedo. No final faremos as contas…
😉
We won at Long Beach!
It was a strange race with red flags and Safety-Car, but we were able to fight off our opponent's attacks and I was able to sign the fastest lap of the race.
K-PAX Racing and McLaren GT gave me a very competitive McLaren 650S, which was very important for the win.
We are leading the championship, but it is still very soon. In the end we will do the math…
#GoingHard #McLarenGT #650S #BelieveInMcLaren #2017Season #PWC#DefendingTheTitle #KPAX K-PAX Racing Flying Lizard Motorsports Pirelli World Challenge Championships McLaren GT