Grand Prix of Long Beach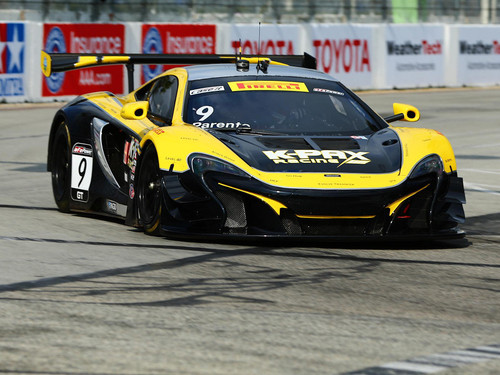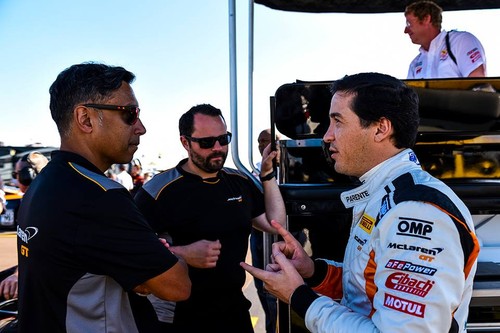 Pole-position!!!!!
😃
A pista estava húmida, mas conseguimos ser os mais rápidos e bater o recorde da pista.
Arrancamos da pole, mas não vai ser fácil… Vamos dar o nosso melhor para conquistar mais um bom resultado.
Obrigado pelo vosso apoio.
Pole-position!!!!!!
😃
The track was damp, but we were the fastest and we signed a new track record.
We will start from pole, but it won't be easy… We will give or best to achieve another good result.
Thank you for your support.
#GoingHard #McLarenGT #650S #BelieveInMcLaren #2017Season#PWC #DefendingTheTitle #KPAX K-PAX Racing Flying Lizard Motorsports Pirelli World Challenge Championships McLaren GT
Parente Takes Record-Setting Pole in Long Beach Rd.3 Qualifying
St. Pete Winners Parente, Long to start on front row for Sunday's Feature
LONG BEACH, Calif. – Reigning Pirelli World Challenge GT series champion Alvaro Parente pulled out a last lap "qualifying flyer" Saturday to win the GT/GTA pole position for Sunday's 50-minute PWC Grand Prix of Long Beach presented by Optima Batteries at the legendary 43rd annual Toyota Grand Prix of Long Beach.
Parente, the 32-year-old factory McLaren GT driver from Porto, Portugal, drove his No. 9 K-PAX Racing McLaren 650S to a time of one minute, 18.883 seconds (89.84 miles per hour) Saturday morning with only a few minutes left in the 20-minute qualifying round to better his 2016 record qualifying mark of 1:18.947 (89.74 mph) on the drying 1.968-mile, 11-turn temporary street circuit near the Long Beach harbor.
Rain hit the racing surface during the early morning hours on Saturday, but despite the drying track surface, the top 12 GT drivers were within a second of the pole time.
Parente, the winner of Round 1 last month at St. Petersburg, made his initial Long Beach appearance last year with the K-PAX Racing team and made an immediate impact with the Long Beach pole, qualifying record and race win. It was Parente's first of six 2016 race victories that led to the GT driver's point title.
"It was definitely not full-dry conditions so you couldn't really attack," Parente explained, "especially that braking area into turn 9. In between turns 9 and 10, it was also wet there so I was quite impressed with the lap time. If it was fully dry, I believe the pack would have gone quite a bit quicker, especially if everything was normal. I'm happy to have come back, got that last sector right with three minutes to go, and then concluded my lap. Mentally, I knew that the end would have been better so maybe even waiting another five minutes would have helped but we didn't do that since all of our main competition didn't do it. So, we decided to go too and we didn't have a problem."
Local favorite Patrick Long of Manhattan Beach, Calif., held the top spot for the majority of the 30-minute qualifying session with a clocking of 1:18.983 (89.72 mph) in the No. 58 Wright Motorsports Porsche 911 GT3 R before Parente's late record run Saturday. Long, the 2011 PWC GT champion, finished second to Parente in last year's 2016 GT standings and won Round 2 of the 2017 PWC GT campaign at St. Petersburg.
"We went with the strategy of putting a lap in early," said Long. "Where we got caught off gaurd was that all weekend we had a 15-minute practice session but when we got out and the tuggers left, that's when we got the update of a twenty-minute session so we ended up running out of fuel at the end. Everybody's doing their best and we learn from it. In the end, no excuses. Alvaro (Parente) is a class act and tomorrow is the race so we'll see. I feel good about the race. The track will be different again, turn one will be wild, and we just have to keep the perspective of the complete picture and we'll be alright."
Rounding out the top three in GT division Saturday was Parente's K-PAX Racing teammate, Bryan Sellers of Brasleton, Ga., in the No. 6 K-PAX Racing McLaren 650S with a qualifying lap of 1:19.088 (89.60 mph). Sellers, in his first season in PWC GT action, won the pole in the GTD class for IMSA at Long Beach too.
"I couldn't fully go 10/10ths (in turns 9, 10, and 11) but it was pretty close in the end; it didn't miss a lot," Sellers remarked. "You just lacked the ability to release the brake and carry some of the speed through there. I made a bit of a strategical error; I went too hard, too early and didn't have enough left at the end, but that's on me. On my last lap, I was up a little bit on one car but I don't know if it was enough of a traffic case for me to have passed but that's the way the cookie crumbles. It's a good qualifying position, it's better than St. Pete for sure. The race will be interesting, but now we get to go do the fun part."
GT rookie Daniel Mancinelli of Italy, a St. Pete pole winner, drove his No. 31 The Collection/TR3 Racing Ferrari 488 GT3 to the fourth best qualifying time of 1:19.143 (89.54 mph) followed by another GT rookie, Alex Riberas of Spain, with a 1:19.169 (89.51 mph) in the No. 61 R. Ferri Motorsport Ferrari 488 GT3.
The top ten GT qualifiers were Ryan Dalziel of Scotland in the No. 2 CRP Racing/DeVibliss Mercedes AMG GT3 (89.42 mph), Pierre Kaffer of Germany in the No. 4 Magnus Racing Audi R8 LMS (89.34 mph), Alec Udell of The Woodlands, Tex., in the No. 17 GMG/Euroworld Motorsports Porsche 911 GT3 R (89.32 mph), Michael Cooper of Syosset, N.Y., in the No. 8 Cadillac Racing Cadillac ATS-V.R. (89.15 mph) and Peter Kox of the Netherlands in the No. 93 RealTime Racing Acura NSX GT3 (89.10 mph).
In the GTA category, local racer James Sofronas of Villa Park, Calif., took the pole position late in the session like Parente when the two-time Long Beach winner drove his No. 14 GMG Motorsports Porsche 911 GT3 R to a time of 1:20.147 (88.52 mph).
"We thought about the weather and scuffed in our tires in practice," said Sofronas. "I think it hurt us in the end but we were hedging that we could put a fast lap early in case someone got a red flag because our tires would come up quicker. Obviously it was a green session and I probably didn't get the best of the tire. In one way, we got a good race pace but we probably didn't get the most of the tires. However, the car is balanced and we'll take the pole. I'm happy to be on pole, but we have a lot of work to do tomorrow."
All results are provisional until posted Final. GT and GTA classes hit the track tomorrow at 10:00 a.m. PDT for Round 3 competition. Fans can keep track of timing and scoring in real-time at PWC's TSL link at http://www.tsl-timing.com/event/171406/ under the LIVE TIMING link. CBS Sports Network will air the same-day broadcast at 2:30 p.m. EDT (11:30 a.m. PDT) as well as an encore presentation at 6:30 p.m. EDT (3:30 p.m. PDT).
Pirelli World Challenge Grand Prix of Long Beach Presented by Optima Batteries Rd.3 GT/GTA Qualifying Results. Results are provisional until posted final.
Pos,PIC,Class,Name,Hometown,Car,Laps,Time,M.P.H.
1,1, GT,Alvaro PARENTE,Porto, Portugal,McLaren 650S,13,1:18.833,89.84
2,2, GT,Patrick LONG,Manhattan Beach, CA,Porsche GT3R,13,Not Running,1:18.983,89.72
3,3, GT,Bryan SELLERS,Braselton, GA,McLaren 650S,13,1:19.088,89.60
4,4, GT,Daniel MANCINELLI,Italy,Ferrari 488 GT3,13,1:19.143,89.54
5,5, GT,Alex RIBERAS,Barcelona, Spain,Ferrari 488 GT3,11,1:19.169,89.51
6,6, GT,Ryan DALZIEL,Windermere, FL,Mercedes AMG,14,1:19.247,89.42
7,7, GT,Pierre KAFFER,Germany,Audi R8 LMS,13,1:19.323,89.34
8,8, GT,Alec UDELL,The Woodlands, TX,Porsche GT3R,12,1:19.343,89.32
9,9, GT,Michael COOPER,Syosset, NY,Cadillac ATS-V.R,13,1:19.494,89.15
10,10, GT,Peter KOX,Eindhoven, Netherlands,Acura NSX GT3,13,1:19.536,89.10
11,11, GT,Jon FOGARTY,Bend, OR,Porsche GT3R,12,1:19.587,89.04
12,12, GT,Johnny O'CONNELL,Flowery Branch, GA,Cadillac ATS-V.R,13,1:19.779,88.83
13,13, GT,Ryan EVERSLEY,Atlanta, GA,Acura NSX GT3,12,1:20.059,88.52
14,1, GTA,James SOFRONAS,Villa Park, CA,Porsche GT3R,12,1:20.147,88.42
15,14, GT,Jonathan SUMMERTON,Redwood City, CA,Lamborghini Huracan GT3,9,1:20.213,88.35
16,2, GTA,Michael SCHEIN,Glen Cove, NY,Porsche GT3R,9,1:20.250,88.31
17,3, GTA,John POTTER,Salt Lake City, UT,Audi R8 LMS,13,1:20.604,87.92
18,4, GTA,Mike HEDLUND,Redwood City, CA,McLaren 650S,12,1:20.678,87.84
19,5, GTA,Yufeng LUO,Arcadia, CA,Bentley Continental GT3,10,1:21.080,87.40
20,6, GTA,Pablo Perez COMPANC,Buenos Aires, Argentina,Mercedes AMG GT3,12,1:21.330,87.13
21,7, GTA,Tim PAPPAS,Boston, MA,Mercedes Benz AMG GT3,12,1:21.374,87.09
22,8, GTA,Jorge DE LA TORRE,McAllen, TX,Aston Martin Vantage GT3,9,1:23.374
23,15, GT,Adderly FONG,Hong Kong,Bentley Continental GT3,0,-,-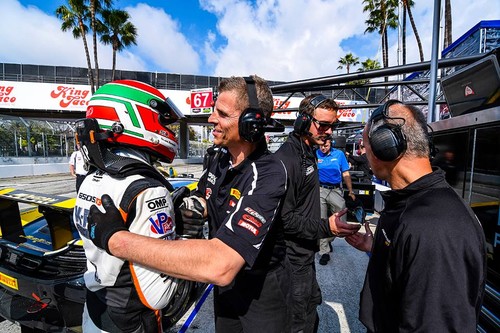 Estamos a menos de uma hora do início da corrida, 18h00 GMT+1. Vou arrancar da pole-position. Vamos dar o máximo para mais um bom resultado.
Podem seguir a corrida através do link que podem encontrar um pouco mas abaixo.
The race will start in less than one hour, 18h00 GMT+1. I'll start from pole-position. We will give our best to achieve a good result.
You can follow the race following the link
...
Ver Mais
— com McLaren GT.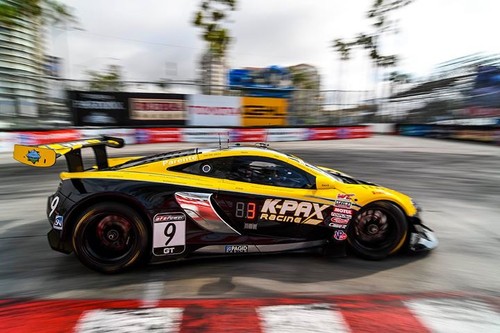 Vencemos hoje em Long Beach!!!
Foi uma corrida estranha com bandeiras vermelhas e Safety-Car, mas conseguimos suster sempre os ataques dos nossos adversários e ainda consegui assinar a melhor volta.
A K-PAX Racing e a McLaren GT deram-me um McLaren 650S muito competitivo, o que foi determinante para este triunfo.
Estamos na liderança do campeonato, mas é ainda muito cedo. No final faremos as contas…
😉
We won at Long Beach!
It was a strange race with red flags and Safety-Car, but we were able to fight off our opponent's attacks and I was able to sign the fastest lap of the race.
K-PAX Racing and McLaren GT gave me a very competitive McLaren 650S, which was very important for the win.
We are leading the championship, but it is still very soon. In the end we will do the math…
#GoingHard #McLarenGT #650S #BelieveInMcLaren #2017Season #PWC#DefendingTheTitle #KPAX K-PAX Racing Flying Lizard Motorsports Pirelli World Challenge Championships McLaren GT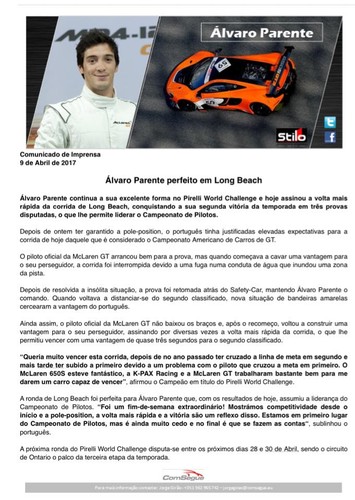 WTCC Marrocos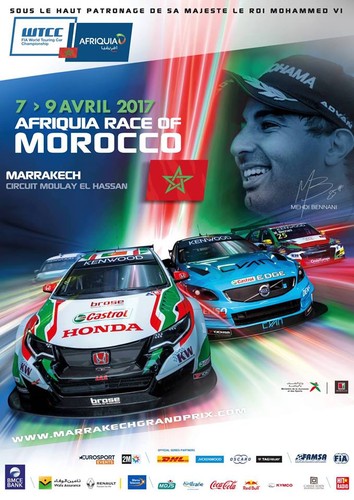 Circuit International Automobile Moulay El Hassan, Morocco
Pole position para a corrida de amanhã
Em directo no Eurosport às 16:15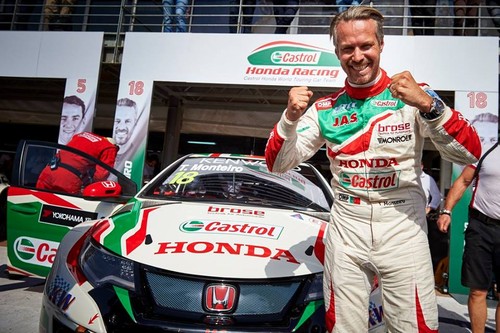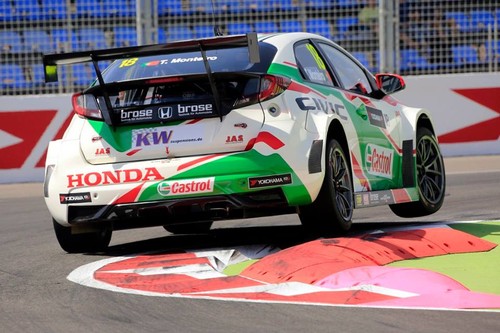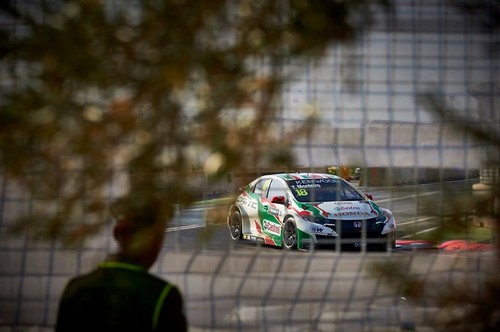 Honda claimed the first pole position of the 2017 FIA World Touring Car Championship thanks to a stunning performance in qualifying from Tiago Monteiro in Morocco.
Tiago had set the pace in opening practice and then again in the second section of qualifying. With the pressure on, he smashed the official pole position record at the Circuit Moulay el Hassan in Marrakech in 1m21.792s to take the top spot.
It was the seventh pole position for the Honda Civic WTCC and the fourth of Tiago's career; the Portuguese driver receiving five bonus points for his World Championship campaign for his achievement.
His Castrol Honda World Touring Car team-mate Norbert Michelisz recovered well to set the pace in FP2 after missing the opening session due to a minor oil leak. After setting the pace in Q1, his Q3 lap was good enough for a strong third place on the grid.
Ryo Michigami, who becomes a full-time WTCC driver this year, made a sensational last-gasp effort in Q2 to elevate himself from 11th to ninth spot on his final lap.
Not only was this the best qualifying result ever achieved by a Japanese driver in the WTCC, it also put Ryo on the front row for Sunday's reversed-grid Opening Race. Norbert and Tiago start the opener from eighth and 10th respectively.
The Opening Race takes place at 1635 while the Main Race will start at 1745.
UPDATE: Unfortunately, Ryo's qualifying times were cancelled after he mistakenly did not stop for a weight check when instructed. He will start both races from the back of the grid as a result.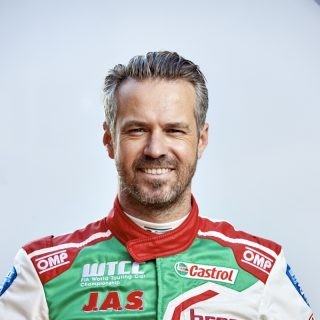 "This is exactly what we needed. As a team we've worked incredibly hard over the winter to develop the Civic. We knew that we'd made progress, but you still have to show it, in front of everyone else, to prove that the progress is real. Norbi was very fast all day, so I knew I had to set a very good laptime to get pole, but I did and this is the result. I was pretty happy with my lap and to have pole for the first Main Race of the year feels fantastic. On a street track pole position is a bigger advantage than normal because it's so difficult to overtake, so I'm aiming to make the most of it."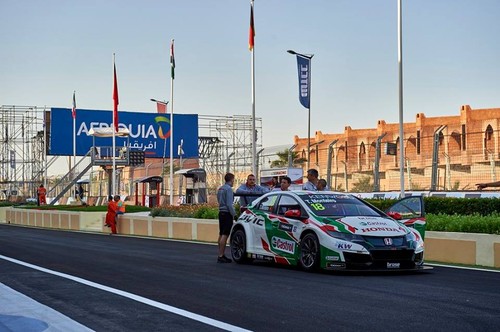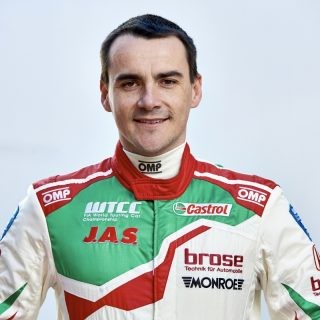 "Today is a tremendous team result and we have to be happy with that. Personally, I'm a little disappointed to only qualify third because Tiago showed that the car was capable of pole position. I didn't have the confidence on my Q3 lap to push to the absolute limit, so I don't think I could have matched Tiago's time no matter the circumstance. I missed all of FP1 with a small issue, but I honestly don't know if missing 45 minutes of track time made a difference. I'm confident of scoring big points tomorrow."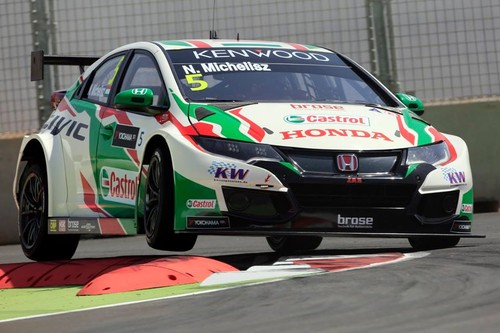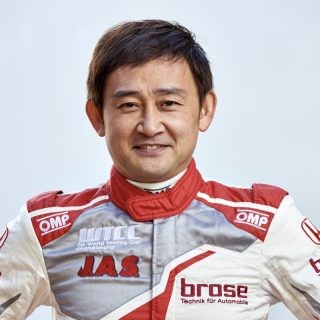 "I'm pretty pleased with the way qualifying turned out. Ninth is OK for my first time on this circuit and second for the reversed-grid race gives me an excellent opportunity to win – which is my aim. I have to thank my engineer Nicola, who made a great decision to change the tyre pressures right at the end of Q2, which helped unlock an extra bit of speed and got me up into a very important P9. Unfortunately my times were cancelled because of a mistake in the pits, but tomorrow I'll see what I can achieve."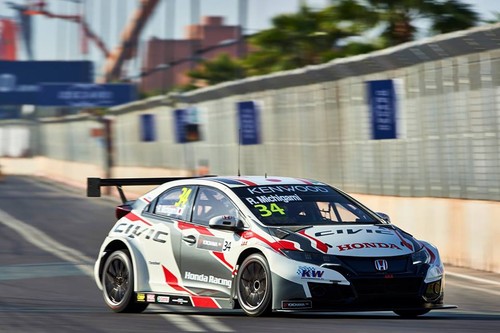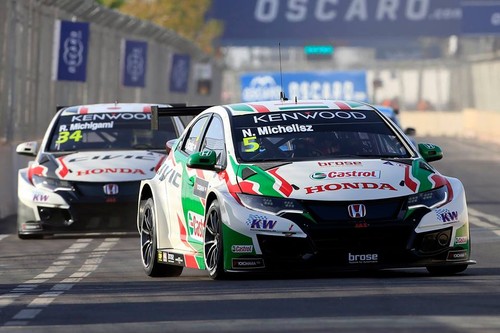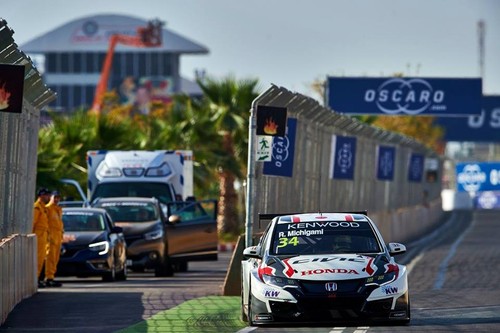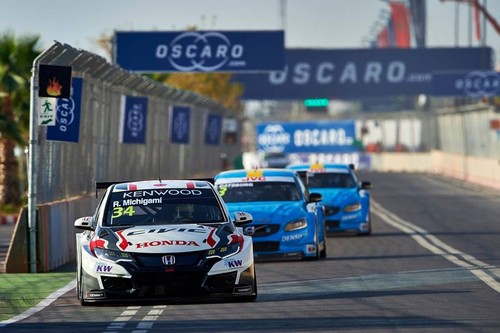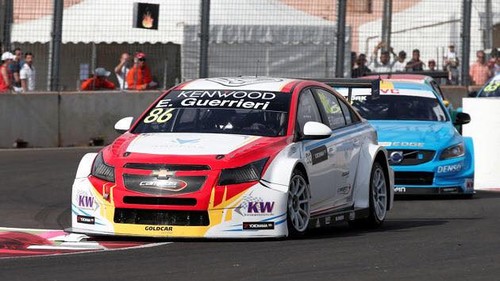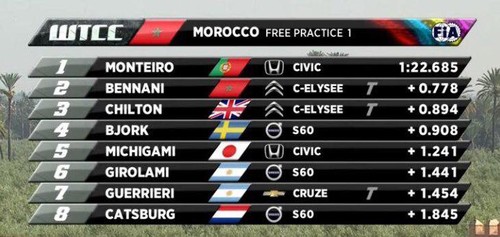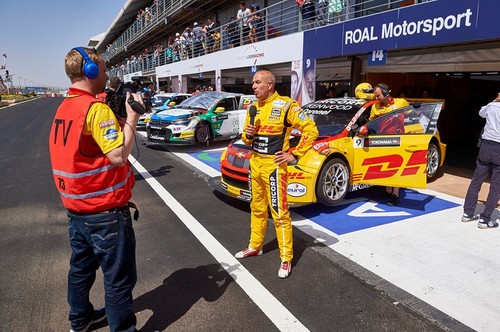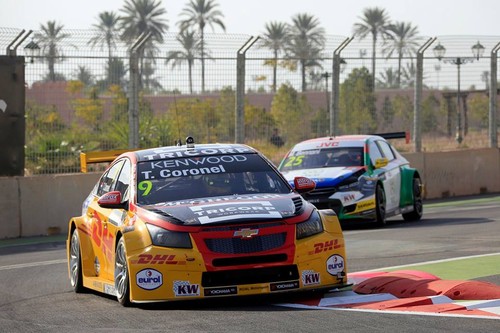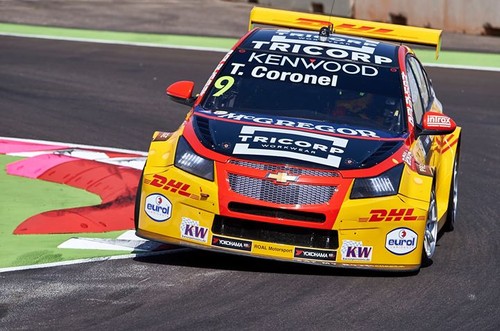 UPDATE!
👊🏻
👊🏻 I'll start race 1 from POLE POSITION, because of the disqualification from Yann Ehrlacher & Ryo Michigami. Sorry guys
😟, I know I'm a lucky man.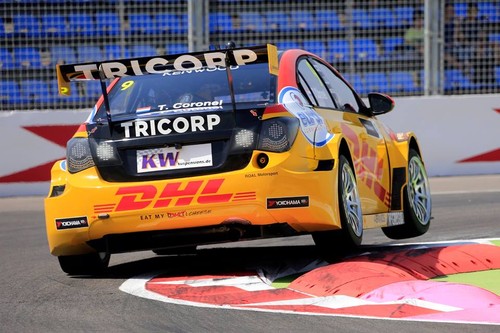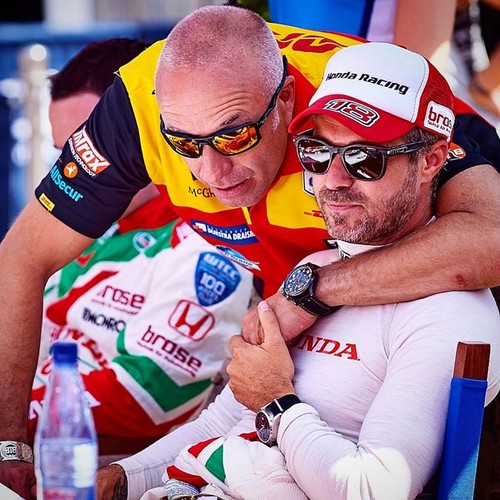 The 2 FIA WTCC pole men for Marrakech Grand Prix.
👊🏼
🙈
👍 Race 1 me and race 2 Tiago Monteiro lets go get those
🏆
🏆 trophies!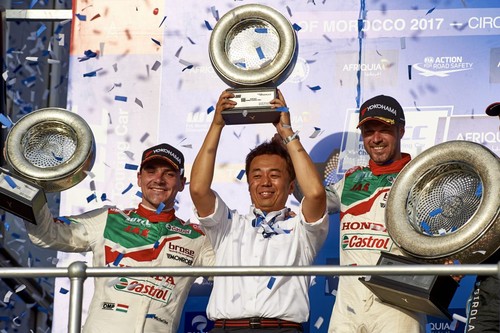 Tiago Monteiro ganha a corrida principal do WTCC em Marrocos e lidera um Mundial FIA (tal como no ano passado, mas acabou desclassificado).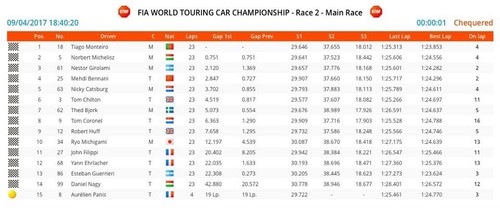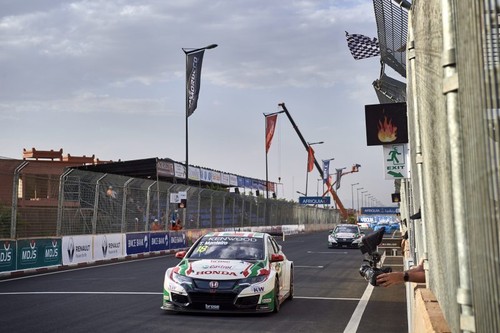 "It's a fantastic feeling for myself and the whole team to win the first Main Race of the season and be leading the Drivers' and Manufacturers' Championships. Overtaking is always tough on street circuits, so taking pole position yesterday was more than 50 per cent of the job. I made a good start, had to be very careful with my pace to make sure I didn't over-work the brakes or the tyres on a very hot day, and took the chequered flag. To head Norbi home in a one-two finish for the team is great."
Tiago Monteiro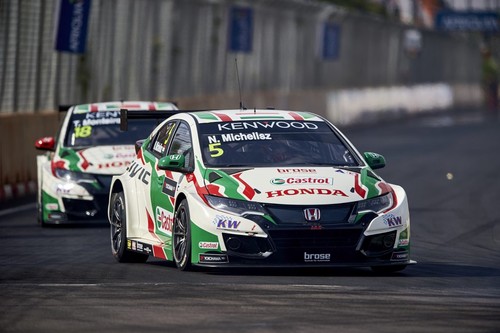 "Today is a great result for the team and I have to congratulate Tiago on his win. Today's result was all down to my start. I made a good getaway and made it up to P2 by the first corner. It got pretty close with a few other cars through Turn One, but after that, I was confident of holding my place because it's very hard to overtake here and my Honda has been fantastic all weekend. This is a strong start to my season."
Norbert Michelisz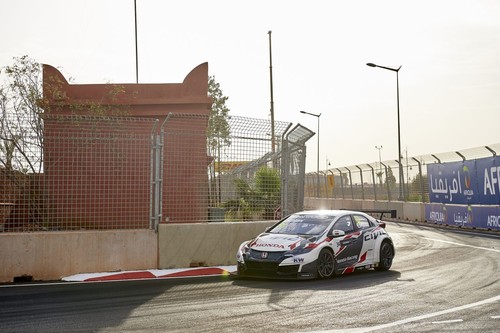 "It was a mixed day for me. I'm disappointed to have been taken out of the Opening Race after I'd made a very good start and made up a couple of positions. My rear suspension was broken, but because it happened early on, my mechanics a chance to get the car fixed properly before the Main Race. Scoring a point was a good result, but I need to continue to work on my race pace at the coming events. I'm sure this will come as my experience of the WTCC increases."
Ryo Michigami
Honda took an early lead of the 2017 FIA World Touring Car Championship with a dominant one-two finish in Morocco from Tiago Monteiro and Norbert Michelisz.
Tiago started the Main Race from pole position and drove an inch-perfect race on the Circuit Moulay el Hassan in Marrakech; the Portuguese leading every lap to win by less than a second from his Castrol Honda World Touring Car Team-mate.
It was Tiago's 10th WTCC victory and gave him a seven-point advantage over Norbert in the Drivers' Championship.
Hungarian Norbert, who secured his 32nd podium in the series, had earlier finished fifth in the Opening Race; one place ahead of his team-mate.
Honda, who now have 15 WTCC victories, lead the Manufacturers' points race.
Fellow factory driver Ryo Michigami, who was racing in Morocco for the first time, secured his first WTCC point with 10th place in the Main Race in his Honda Racing Team JAS Civic.
The Japanese driver had been on course for a similar finish in the Opening Race after making a superb start. Unfortunately contact from a rival driver bent his left-rear suspension, forcing him to retire in the pits.
The next round of the WTCC takes place at the historic Monza circuit in Italy on April 22-23.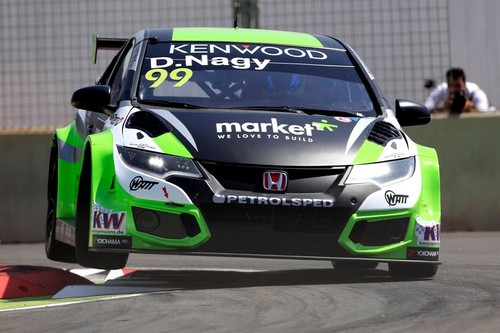 Sziasztok!
Véget ért a marokkói hétvége.
Race1: Jöttünk fel, mint a talajvíz az első körben! A safetycar után megfutottam a leggyorsabb kört a versenyben! Sajnos 3 körrel a verseny vége előtt egy szerencsétlen helyzetben megütöttem a falat... 8.helyen haladtunk éppen. Sajnos kitörött a jobb hátsó kerék, és a versenyem véget ért. Részletek később.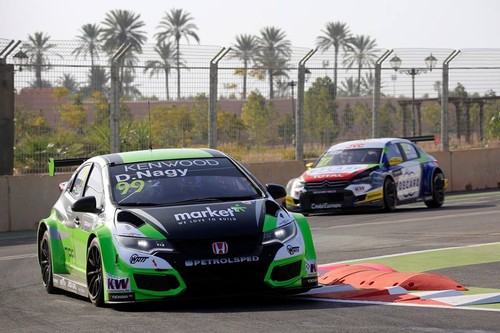 Race2: A srácok óriási bravúrt végrehajtva megjavították az autót, rajt a boxból. Az autó sajnos jobban sérült, mint gondoltuk, így csak a verseny befejezése lehetett a cél.
Óriási köszönet a Zengő Motorsport összes szerelőinek, kivételes munkát végeztek a hétvége folyamán! Köszi nektek is, hogy velem, velünk voltatok!
Próbáljuk a pozitívumokat megtartani a hétvégéről, hisz volt bőven! Nagyon pozitív a jövőre nézve, hogy ennyire versenyképesek tudtunk lenni. Részletek később.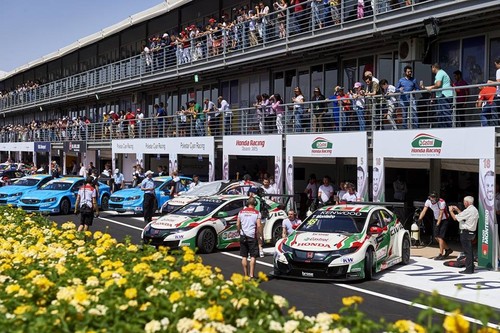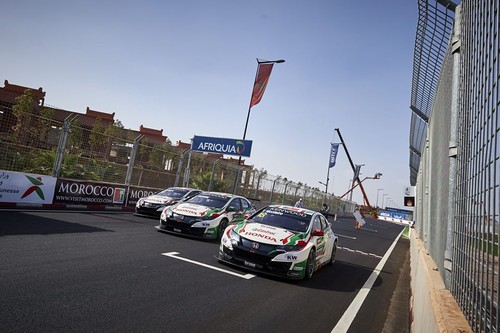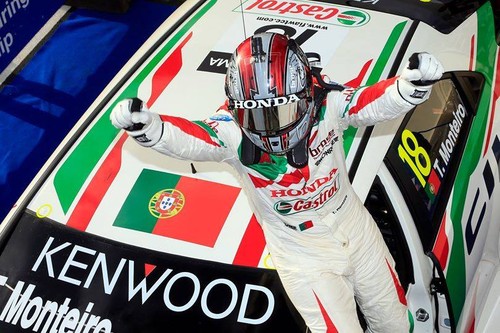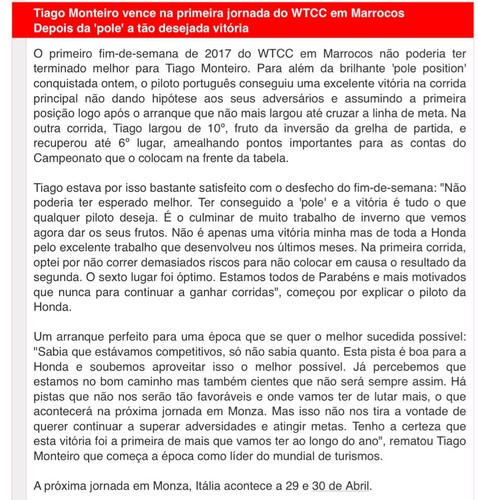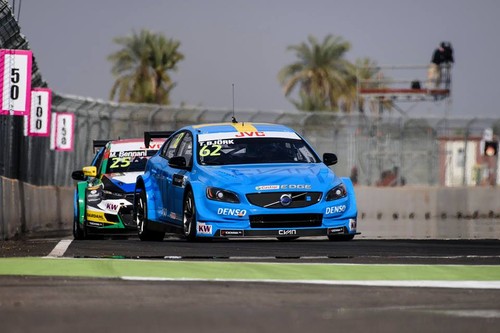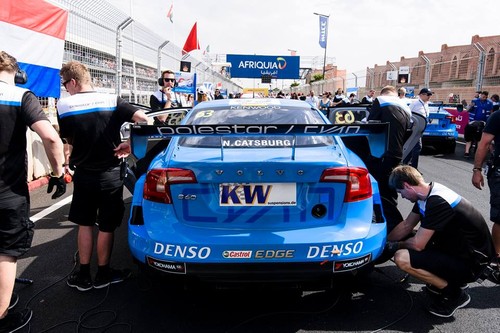 Long Beach IMSA WeatherTech Sportscar Championship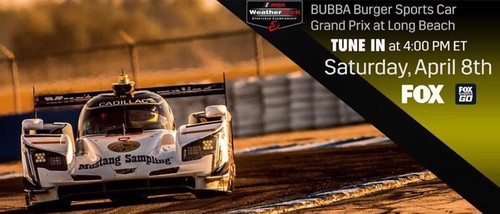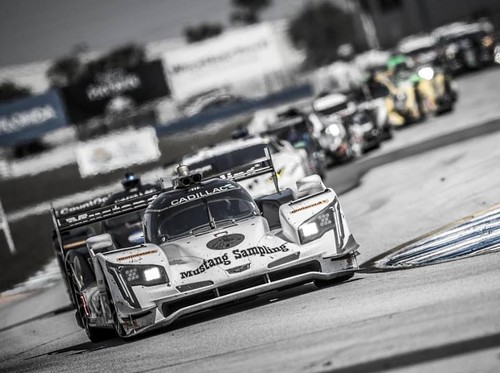 Boa sorte para a @ax_racing em Long beach este fim de semana! (E um bocadinho mais para o carro #5 
@imsa_racing #ActionExpress @fittigram #JoaoBarbosa #longbeach @cadillac
Good luck to @ax_racing this weekend in Long Beach. Push hard car #5 & #31. (Push a little bit more #5)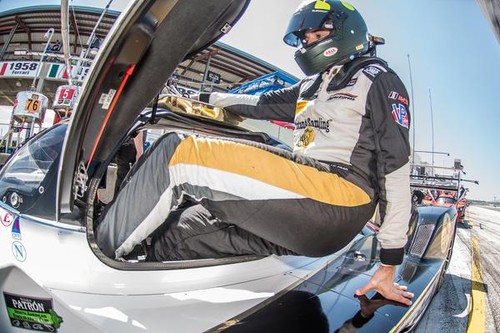 Depois de brigarem pelas vitórias nas duas etapas de longa duração que abriram a temporada do IMSA WeatherTech Sportscar Championship - 24 Horas de Daytona e 12 Horas de Sebring - , o brasileiro Christian Fittipaldi e o português João Barbosa estão animados para a primeira corrida Sprint do campeonato 2017 no desafiador circuito de rua de Long Beach, na Califórnia (EUA), neste sábado (dia 8).

A dupla do Mustang Sampling Cadillac DPi-V.R, da equipe Action Express Racing, está na vice-liderança do campeonato e quer brigar pela primeira vitória no ano, após dois segundos lugares.

No ano passado, Fittipaldi registrou a pole position no traçado de 1.968 milha (aproximadamente 3,16 km) e a dupla terminou a etapa em segundo lugar. "É muito importante nas provas de curta duração conseguir a melhor posição de largada possível, realizar excelentes pit stops e ter uma pilotagem impecável durante a corrida", comentou o brasileiro. "A principal diferença entre as provas de Sprint e endurance é o fato de que a recuperação é quase impossível", destacou.

"Correr em Long Beach é sempre um desafio. Um pequeno erro pode custar o seu final de semana inteiro, mas isso também faz da disputa mais interessante. Corridas de rua são importantes para a competição, já que dão aos pilotos e equipes a oportunidade de correr em outros tipos de pista e permite aos fãs a chance de ver um grande evento", completou o brasileiro, que é bicampeão da categoria (2014 - 15) e atual vice-campeão.

A relação de Fittipaldi com o traçado de Long Beach é antiga e começou ainda em sua primeira temporada na CART, em 1995. Sua última prova com um monoposto no traçado aconteceu em 2002, quando corria pela Newman-Hass.

Os treinos para a terceira etapa do IMSA no ano terão início na sexta-feira (7), com a definição do grid às 22 horas (de Brasília). A largada da prova no sábado será às 17h05 (de Brasília), com transmissão ao vivo do Fox Sports 2.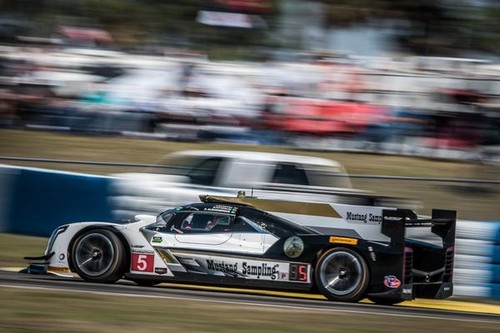 Transmissão da corrida no site  www.world-challengetv.com
World Challenge is North America's top production car-based racing championship. Divided into three separate…
WORLD-CHALLENGETV.COM
SportsCar: Fittipaldi e Barbosa largam da primeira fila em Long Beach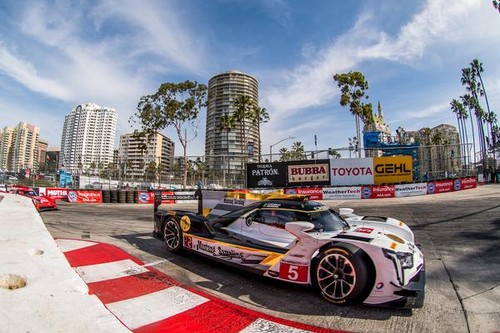 Christian Fittipaldi e João Barbosa largam da segunda posição 
(José Mário Dias)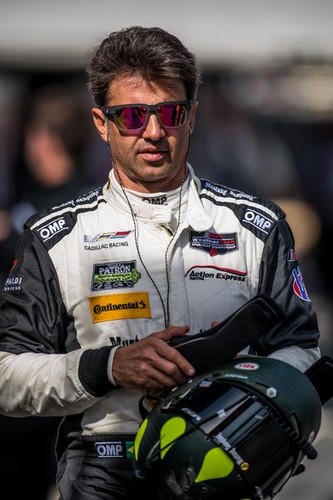 Brasileiro foi o responsável pela classificação nesta sexta-feira 
(José Mário Dias)
A bordo do #5 Mustang Sampling Cadillac DPi-V.R, dupla luso-brasileira parte da segunda posição neste sábado na primeira prova de curta duração da temporada 2017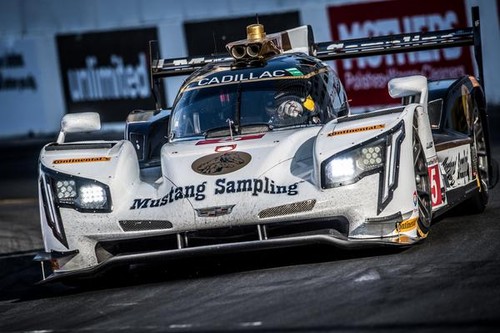 Três etapas, uma pole e dois segundos lugares no grid. Nesta sexta-feira (dia 7), o brasileiro Christian Fittipaldi conquistou mais uma vez um lugar na primeira fila para o #5 Mustang Sampling Cadillac DPi-V.R, da equipe Action Express Racing. Desta vez, nas ruas de Long Beach, na Califórnia (EUA), que recebe neste sábado (8) a terceira etapa do IMSA WeatherTech Sportscar Championship, a primeira corrida de curta duração da temporada 2017.

Fittipaldi, que divide seu Cadillac DPi-V.R com o português João Barbosa, registrou o segundo melhor tempo na tomada de tempos, apenas dois décimos de segundo atrás do pole position Ricky Taylor com o Cadillac DPi-V.R #10. A prova deste sábado, com 1h40 de duração, terá sua largada às 17 horas (de Brasília), com transmissão ao vivo pelo Fox Sports 2.

"O carro estava bom no primeiro treino livre, mas, no segundo treino, fizemos algumas mudanças e andamos um pouco pra trás. Na classificação, voltamos o carro para um acerto mais parecido com o que usamos de manhã e conseguimos o segundo lugar. Faltou um pouquinho para a pole, mas agora o que vale é a corrida. O carro #10 está muito forte, mas estou confiante. Vamos trabalhar muito e tentar o nosso melhor", declarou Fittipaldi, que é bicampeão da categoria (2014 - 15) e atual vice-campeão.

O brasileiro e Barbosa estão na vice-liderança da temporada 2017. Em Daytona, eles partiram da pole e chegaram em segundo. Em Sebring, largaram e terminaram a prova na segunda colocação.

Confira o grid de largada em Long Beach (Top-6):
1 R. Taylor / J. Taylor (Konica Minolta Cadillac DPi-V.R Cadillac DPi) 1:13.549
2 J. Barbosa / C. Fittipaldi (Mustang Sampling Racing Cadillac DPi) 1:13.753
3 T. Nunez / J. Bomarito (Mazda Motorsports Mazda DPi) 1:14.128
4 S. Simpson / M. Goikhberg (JDC-Miller Motorsports ORECA LMP2) 1:14.408
5 D. Cameron / E. Curran (Whelen Engineering Racing Cadillac DPi) 1:14.444
6 S. Sharp / R. Dalziel (Tequila Patron ESM Nissan DPi) 1:14.563
Aqui estamos em Long Beach, California, para a 3ª corrida do campeonato!
Um programa muito apertado com treinos livres e cronometrados hoje (6ªfeira) e corrida amanhã (sábado).
O Fittipaldi fez uma boa qualificação e vamos partir com o nosso Mustang Sampling Cadillac DPi-V.R. da 2ª posição para a corrida!
Here we are in Long Beach!!!
It's a tight schedule! We had practice and qualifying today (Friday) and race tomorrow( Saturday)
Fittipaldi did a great job in qualifying and we are starting our Action Express Racing Mustang Sampling Cadillac DPi-V.R. from P2!
👍🏻
Mustang Sampling Team Fast Again In Long Beach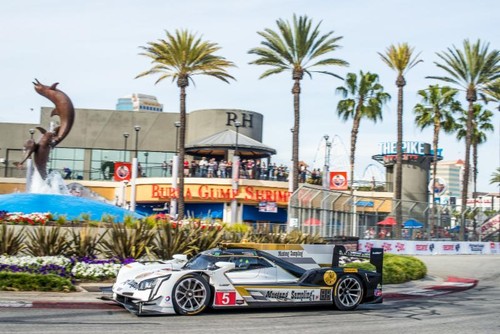 LONG BEACH, CA (April 8, 2017) - The No. 5 Mustang Sampling Cadillac DPi-V.R team showed throughout the weekend, it was primed to perform on the demanding streets of Long Beach and vie for the team's first checkered flag of the season.
Christian Fittipaldi started second and remained in third throughout the early stages of the race. The Mustang Sampling Cadillac DPi-V.R completed fast laps and seemingly playing the right strategy when Christian was hit by a slower GTD car shortly before the halfway point of the 100-minute affair. The severe  damage to the rear of the Mustang Sampling Cadillac required multiple pit stops for tires, fuel, and a driver change to Joao. However, the team never wavered  and salvaged a seventh place finish along with key points toward the championship battle.
Joao Barbosa, No. 5 Mustang Sampling Cadillac DPi-V.R:
"Unfortunately, it wasn't our day today," Barbosa said. "We have a great team and we'll keep moving forward. 
We were able to stay out of trouble the remainder of the day, and get as many points as possible before we head to the next race."
Christian Fittipaldi, No. 5 Mustang Sampling Cadillac DPi-V.R:
"Not our day," Fittipaldi said. " I passed a slower GTD car on the back straight then as I was entering the next turn, I felt a hit from behind. Unfortunate for our Mustang Sampling Team, but the guys fixed the car where we could finish the race. Now, we turn the page and move on to Austin and the Circuit of the Americas."
The IMSA WeatherTech Sports Car Championship travels to the Circuit of the Americas for the Advanced Auto Parts SportsCar Showdown May 4-6.
Points Standings:
IMSA Weather Tech Championship: 2nd (89 points)
Tequila Patron North American Endurance Championship: 2nd (16 points)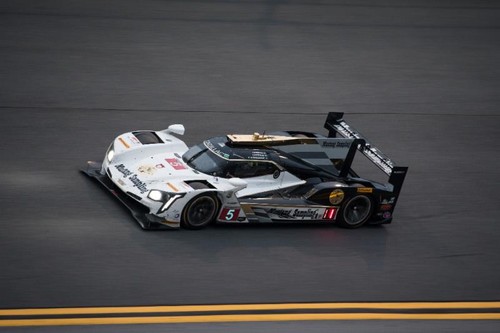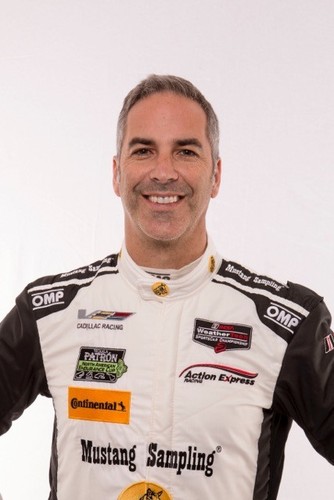 João Barbosa
The three-time and co-defending IMSA TPNAEC Champion, João Barbosa returns to Action Express Racing to drive the familiar #5 gold, black and white Mustang Sampling Cadillac DPi-V.R seeking his third IMSA WeatherTech Championship at the pinnacle of North American sports car competition. João resides in Ormond Beach, FL with his wife and two sons. He is an avid runner and cyclist.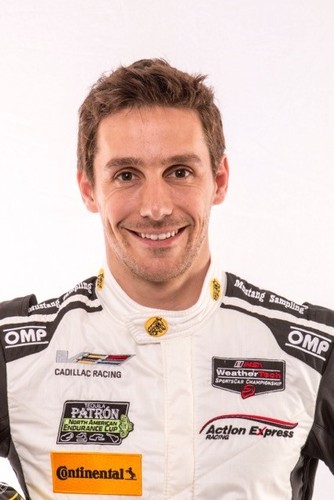 Filipe Albuquerque
Filipe joins the defending Tequila Patron North American Endurance Cup and 
two-time IMSA WeatherTech SportsCar Championship winning No .5 Mustang Sampling  Cadillac Dpi-V.R for the 2017 endurance races:  Rolex 24 at Daytona, Twelve Hours of Sebring and the 
season finale, Petit Le Mans at Road
Atlanta.  Filipe resides in his hometown 
of Cambria, Portugal.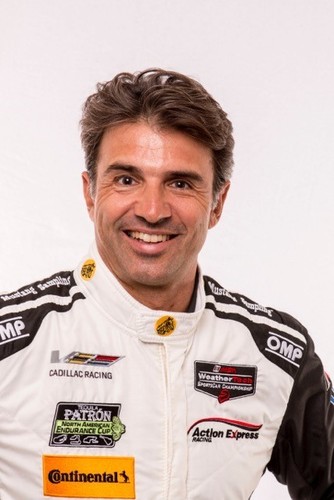 Christian Fittipaldi
Two-time IMSA WeatherTech SportsCar Champion driver Christian Fittipaldi returns to Action Express Racing for 
his fifth full season of competition following  a third consecutive Tequila Patron' North American Endurance 
Cup Championship with co-driver  João Barbosa. Outside of sports car racing, 
the Brazilian satiates  his need for competition by racing in mountain bike and karting events, both in the U.S. 
and his home country of Brazil